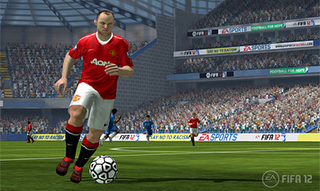 A very realistic-looking Wayne Rooney
EA Sports have announced that FIFA 12 will be playable on Nintendo's latest handheld platform, the 3DS. While their main competitors, Pro Evolution Soccer, have already released PES 11 on the system, EA Sports wants to revolutionize the handheld gaming experience.
Being a big fan of handheld gaming and the FIFA series, this latest release looks to make up for all the fairly mediocre Nintendo DS FIFA games of the past. What EA calls, "intuitive new touch screen controls" seem to offer a whole new depth to shooting and curving shots. These optional touch-screen controls will add pinpoint accuracy from the player's viewpoint. Along with this, FIFA 12 on the 3DS will feature more game modes than ever, including online head-to-head matches, Tournament mode, Career Mode, 3D Street Football, Be A Pro Mode, and Training Mode. And if that's not enough, there's a total of over 500 officially licensed clubs.
What seems to be the coolest thing to look forward to in FIFA 12 for Nintendo 3DS is the 3D Street Football. You'll be able to utilize your favorite professional players, or re-create yourself and play the game in the streets. The environment will have an "innovative curved pitch and unique lower camera view that maximizes 3D planes,". While the 3D effect will be prevalent throughout the game, EA wants to really impress people with the 5 v 5 matches in exotic outdoor and indoor environments.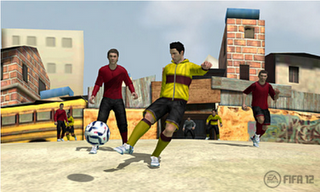 Robin van Persie in the 3D Street mode
With over nine different new camera angles to experience the Nintendo 3DS's visual power, the game already looks vibrant in the two vibrant 2D screenshots which EA have released. So far from what I've seen, I'm very impressed. The screenshot of Wayne Rooney looks wonderful, with the stadium and players looking very realistic. As for the 3D street mode, it's something to look forward to, but not expect much out of. While a fully functioning, well-tuned street mode will be much appreciated, I fear that maybe it'll end up to be a small feature.
FIFA 12 looks set to be released in stores world-wide this autumn. The game looks very interesting, and is beginning to nag at me to buy a 3DS in the future. Whether the 3D visuals, new gameplay style, and street football will deliver is unsure, but for now, FIFA 12 for the 3DS looks revolutionary.