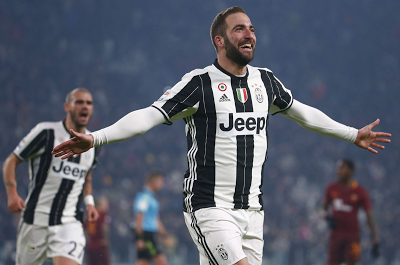 The top-table clash between Serie A leaders Juventus and second-placed Roma was decided early on by Gonzalo Higuain's brilliant goal as Juventus now sit with a comfortable seven-point lead at the top of the table. The Argentine had looked dangerous with an early chance saved by Szczesny, and on the fifteen-minute mark he managed to steal possession from Daniele De Rossi before dribbling past the Roma defence and blasting the ball into the net.
It was a tough blow for Roma as the lead let Juventus sit and defend comfortably. Luciano Spalletti's choice of starting with Gerson instead of Mohamed Salah soon proved to be a failed experiment as the giallorossi were ponderous in possession. Having ex-Roma playmaker Miralem Pjanic run the clinical one-touch passing of the Juventus counter-attacks only highlighted Roma's lack of midfield spark.
Spalletti replaced Gerson with Salah at the start of the second half but Massimiliano Allegri's halftime team talk had clearly revved up his players for a strong start to the second half. Alex Sandro had a few good runs on the left side after his fairly muted first half, and Mandzukic was proving to be a large a nuisance for the Roma defence. While in the 50th minute Pjanic had to be substituted by Cuadrado due to a thigh problem, Roma was constantly giving possession away with poorly placed passes.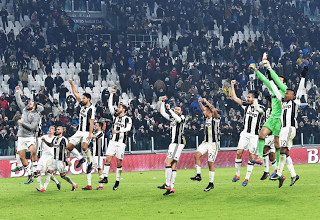 Spalletti eventually took De Rossi off for El Sharaawy in the 72nd minute, shifting to a much more attacking 4-3-3 in a desperate attempt to grab a late equalizer. Roma pressed high up into Juve's half with Naingolann and Strootman cleaning up any Juventus attempts to counter, and the rest of the team working hard as Juventus players tired in the later stages of the match. Roma began to create chances but couldn't find a goal: Perrotti failed to beat Buffon after a nice setup by Salah and Manolas was only inches away from an unsavable diving header.
In the end, the best chances of the second half came for the Juventus midfielder Sturaro but Szczesny was imperious in stopping the Italian's shots. The first chance came when the midfielder was served a pass into the box by Mandzukic's brilliant backheel, and the second was also provided by the Croatian who headed the ball into Sturaro's path towards goal. While Roma finished the second half strong, Spalletti's experiment of leaving Salah out along with Higuain's early goal were both enough to give Juventus the victory.
Now with a seven-point lead ahead of Roma and a nine-point lead ahead of AC Milan, it looks like Juventus might run away with the scudetto yet another season. While the bianconeri performance wasn't perfect, Allegri's team yet again managed to do just enough to win when it really mattered.