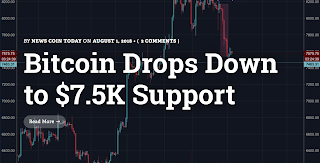 While Soccer Wrap Up typically covers general soccer news, recently a new cryptocurrency and blockchain news website launched at NewsCoinToday.com.
What is News Coin Today
News Coin Today is a cryptocurrency news website dedicated to helping increase the mainstream knowledge and awareness of cryptocurrency and blockchain technology. The website will be providing introductory articles explaining the basics of blockchain technology, along with whitepaper breakdowns which analyze the whitepapers of various blockchain projects. News Coin Today will also be posting coin reports: in-depth studies of various cryptocurrency projects and their underlying technology.
News Coin Today is also on Twitter
@Newscointoday
, with timely updates and posts of the best crypto and blockchain content around the world.
Coinbase Commences Final Testing for Ethereum Classic https://t.co/8y92hKctKO pic.twitter.com/cxOCZwA0i9— News Coin Today (@NewsCoinToday) August 3, 2018
Bitcoin Drops to $7K Support Level
The past week saw Bitcoin drop down between the $7,200-7,500 range, with many wondering whether Bitcoin has already finished peaking at the high $8,400s Bitcoin reached July 24th and 25th. At the time of writing, Bitcoin has dropped through the $7,200 support and is priced at $7,032 per BTC. If this is really the beginning of a new bear trend, it's likely to see Bitcoin drop to 6,800 levels, before possibly sinking further downwards. Some fear lows around the $5,000 mark to come if Bitcoin is trending back downwards on the larger scale. You can read more about Bitcoin's initial drop here on News Coin Today.
Ethereum and Altcoins Also Suffer
With Bitcoin's drop in price, we saw many various altcoins follow suit along with Ethereum. Some prominent coins like Wanchain, Waltonchain, Vechain, and ICON all lost more than 10% in the drop. There has been some recovery across the board in the past 24 hours, however, this drop was a stark reminder that many altcoins can sink much lower than their previously established bottoms. How Bitcoin's most recent drop to $7,000 will affect Ethereum and other altcoins is yet to be determined, however, it seems like the alt-season many investors were hoping for has turned into an extended bear market.
Coinbase Close to Ethereum Classic Support
Perhaps the world's biggest cryptocurrency exchange, Coinbase, recently announced they have begun the final testing for Ethereum Classic support in a recent tweet and blog post. Coinbase currently supports Bitcoin, Bitcoin Cash, Ethereum and Litecoin on its broadly used web-based and mobile application consumer platform. The inclusion of Ethereum Classic, the original Ethereum blockchain after the 2016 Ethereum hard fork, looks like it could help pump ETC clean through the recently established resistances around the $18 mark, and perhaps towards previous highs of around $40.
If you're interested in reading more about cryptocurrency and blockchain technology, be sure to visit News Coin Today for more Bitcoin and cryptocurrency news.
Keep in mind that neither Soccer Wrap Up or News Coin Today are financial advice. Always do your own research before pursuing any financial investments.