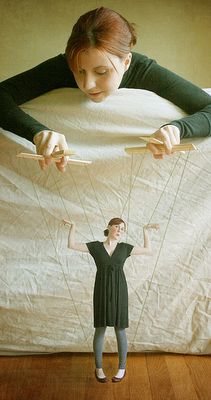 Who's pulling your strings?
This piece was submitted by Jennifer J., a teen feminist and humanist. Jennifer would like to communicate with other teens who share her values, and end up making the world a better place for women to speak out!
If I am writing this now, it is because I feel the need to share this with other females out there who might go through the same situation. Today, I have just realized what I am to other people, especially males. 
I am not exactly the type of girl who "goes after" somebody right after some silly talk. I like to know them first and try to be connected. I have a very big heart, but I don't show it that much. On the outside I am the tough and cold girl you would never approach, but on the inside I am the girl who loves and cares. The only reason I don't demonstrate it is because I have learned that the more you show how warm-hearted you are, the more people will take advantage of you. 
And so, when people would draw near me, I would be indifferent, not showing any emotions. But there was one person who, despite my frostiness, approached me and faced everything I threw at him. To me that was incredible; usually people would be distant because of how cold I am. Only he had the bravery to talk to me. 
Of course we talked for a while. We got to know each other and started talking about more romantic subjects. Like many guys, he wanted to be more intimate, however I wasn't comfortable with that. I would rather talk about these kind of things and fuel the imagination than actually be intimate with somebody. I still consider myself a little girl; I don't want to go that far.
After arguing about it several times, I decided to drop it and delete this guy from my contacts. Was that supposed to feel bad? Well, I did feel bad about doing that for some reason. I added him back and we continued talking to each other. As time passed, he was really getting serious and that critically put pressure on me. My body is a temple. I am not supposed to be pressured because of it, right? 
I decided then to talk to him about it. I told him that I shouldn't be pressured and that we should slow things down. Today, I realize that he obliterated me. Now it makes me think about how and what I am to males. 
I am a female, and I am intelligent, beautiful, graceful, important and trustworthy. My body is sacred and not a universal pathway. I am talking now in the name of all females in the world. We are not something people can just use for their fantasies. We are love, care, comfort and attention. We are strength, courage and beauty. What makes guys think that we can be the tissue they blow in? 
Our bodies are the reason why there is a world and a worldwide population. We bear life in us. We are to be respected and loved. So I will state this one very last thing and if you can, read it out loud:
"I am a woman and not a marionette."