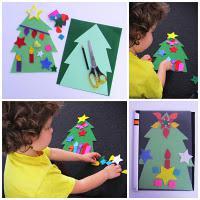 It's no secret that I often see craft projects and think "I'd like to do that one day," but it's only occasionaly that I see something and think "I'm going to do that right now."
I saw two different felt-craft projects yesterday, each on it's own was very clever, but then I realised I had enough materials to combine some of the ideas of both and make a whole other craft.
The first project was a beautiful travel craft in the shape of a Christmas tree which the children could decorate with felt shapes on the beautiful Gluesticks blog.  The second was a black-board styled felt craft at
Whimsical Whimsies
, the black backdrop was especially effective for making the colours look bright and cheery.
I decided to make a traveling blackboard Christmas Tree fuzzy-felt.  Here's what I did;
I laid all my felt pieces out, and noticed the largest were A4s.
Using a ruler and pencil and a piece of green card, I sketched out the largest Christmas tree shape I could make on an A4 and cut it out (I used green card so that the tree can be used for a separate craft).
Laying the card tree down as a template, I traced the shape onto two pieces of green felt (one dark one light) then cut them out.
From the sheets of other colours, I kept it simple and cut out squares, rectangles and a few flame-shapes that could act as candles or ornaments, and I sorted them into two equal piles.
I had a bag of felt stars which was a bonus, and I added these to the assortment (craft stores often sell pre-cut felt shapes).
Using an uncut A4 piece of black felt, I laid the tree and the ornaments all on top and placed the set inside a 'side clamp file' (the sort of document holder that holds un-punched papers in place, with a clear cover and coloured back.)
The result is a (sort of) portable craft activity.  The girls took them to Nana's yesterday and were kept entertained for quite a while.  Mimi in particular enjoys finding new uses for the shapes I cut out and has turned them into flowers, eyes and a carrot-nose, votive-shaped candles and people.
I made both felties within about 30 minutes (with all materials on hand), and whilst they're not overly elaborate, my daughters think they're pretty good.
And lastly, just before I was about to post this, I noticed on one of my follower's blogs, that they have a cute snowman version.  It's here at Aunty Louisa's, so pop over to all the other blog links and share some crafty love!
PS - pipe cleaners can be used as 'tinsel' or 'string-of-lights' on the trees, although they don't stick quite as well, they're effective... just watch the sharpish ends with the bubbas!