British explorer Felicity Aston has successfully crossed the ice covered continent of Antarctica in an expedition that saw her ski solo across 1,084 miles of ice, including traveling through the South Pole. After 59 days Aston became the first woman to achieve the incredible feat of skiing the continent from one side to the other.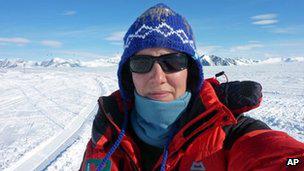 Spending that much time alone in the bleak and bare landscape of Antarctica must be extremely challenging, both mentally and physically. Despite these challenges Felicity Aston has cemented her name in the record books and as one of the leading female polar figures of today.
Congratulations! What will she do next?? More on the BBC.