I know plenty of people who are skeptical about a vegan diet.  They wonder how I can really enjoy meals anymore when they think I eat like rabbit. Well, not only have I demonstrated how you can follow a vegan diet and have a great time while you do, I even feel healthy, full and satisfied.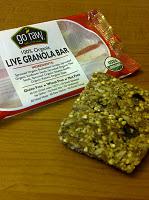 I have to admit though, I have become more and more intrigued by a raw diet.  It's all natural, high in vitamins, nutrients and fiber and requires no cooking!  This compliments a vegan diet (though some raw foodies will include raw fish) but does complicate it a bit as it requires either a lot of preparation or scouring of health food aisles, and Westchester is not a hot bed of raw food vendors!  I figured if I get creative though, I can at least pull off two meals and a snack a day following this strict protocol.  
In my pursuit of prepared raw food, I found snacks by
Go Raw
.  I picked up three different kinds ~ the 100% Organic Live Granola Bar, the Spirulina Energy Bar (it's green ~  just be forewarned) and the Live Pumpkin Bar all of which are gluten-free and nut-free.  They are chewy and dense, leaving me quite full, and I found them to be a good start to my morning with coffee (not quite raw but necessary) or water.  Are there any raw foods you recommend?