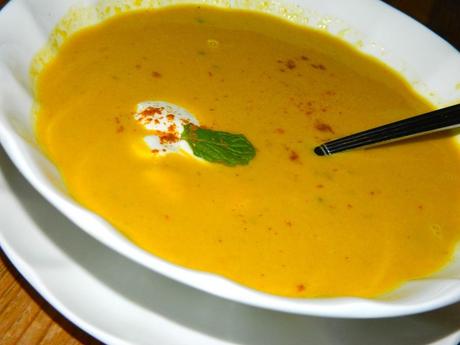 Droooooooling. Truth be told… this soup was actually made last week, and just looking at it makes me hungry all over again. I don't know if you guys really have a true solid grasp on my obsession with all things pumpkin, it's almost out of control. Even little Bitzy is eating pumpkin these days… I am not kidding. I am just waiting for one of us to wake up with orange colored eyes and or skin- like the blueberry girl from Wonka.
I actually had a friend over last week who I offered a cup of pumpkin rooibos tea, and he turned it down cause he wasn't a fan of pumpkin. I then went on to offer ice cream, he obliged… until I opened the freezer and remember I got pumpkin ice cream on my last trip to Trader Joes (that shit is unreal). Good thing I didn't mention the leftover pumpkin soup, he probably would have sent me to PA, you know- pumpkin anonymous?
Regardless, he (and everyone else who didn't get to try this soup), missed out big time. It was the perfect little soup to kick off the fall season, and it was a great way to warm up in my absolutely-freezing-cold home.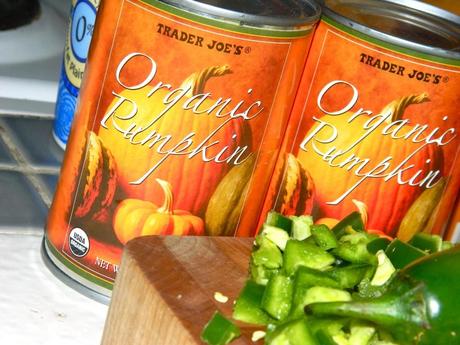 Ingredients:
+ 3 cups chicken broth
+ 1 1/2 cups canned pumpkin
+ 1 cup chopped celery
+ 1 medium chopped onion
+ 1 tart apple, chopped
+ 1 jalapeno chopped (optional)
+ 1/3 cup heavy cream
+ 2 tablespoons of buttah
+ 2 tablespoons honey
+ 2 teaspoon curry powder
+ 1/4 teaspoon salt
+ a dollop of greek yogurt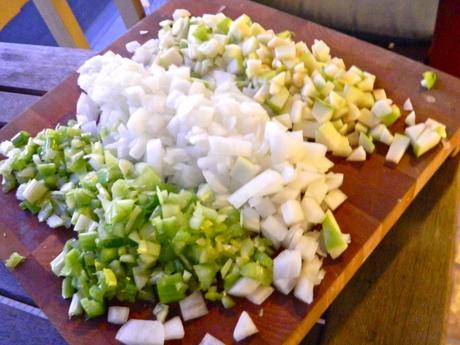 + Step 1:
Dice up and prepare all your ingredients. I love to have all my stuff READY to go before I start. It makes the whole process much smoother. Mind your fingers.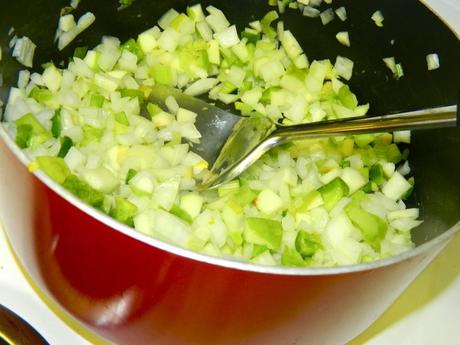 + Step 2: 
Saute your onion, jalapeno, and apple with the butter in a large pot on medium heat. When the onions become clear, add your 1 cup of broth (save the other 2 cups for later please) & your curry powder- let simmer for 1 minute more.
+ Step 3: Remove from heat and add in your pumpkin puree.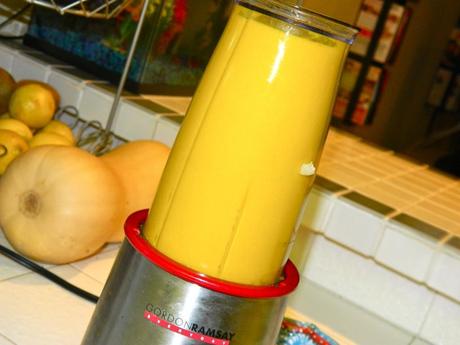 + Step 4: 
For some unknown reason I don't own a blender. Maybe because all we usually need to use a blender for is smoothies, so we just use our "bullet". In the case of this soup, a blender would have been a hell of a lot easier. For those of you normal people WITH a blender, pour everything in your pot into your blender and puree away.
+ Step 5: After it is all blended and smooth, put your mixture back in the pot with the rest of the broth (2 cups), the salt, cream, and honey. Let simmer for 5 minutes.
+ Step 6: Pour into a pretty bowl with a dollop of greek yogurt, and maybe even a sprig of mint if you are feeling fancy.