February Week 3...
Early in the week we said goodbye to the Grandies only to follow them up to their house the next weekend, where it was even hotter than home!! All my seedlings and plants had to be prepared for facing the heat without daily watering.
Notes from my garden diary...
Feb 2015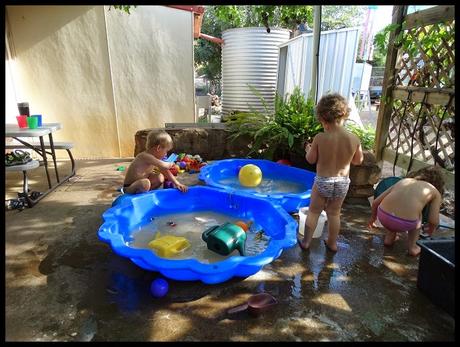 Sunday 15th Feb
Temperature Min 20.7C Max 38.5C
Grandies here for a very HOT day...they spent most of the time in their clam shell pool...with lots of toys to play with.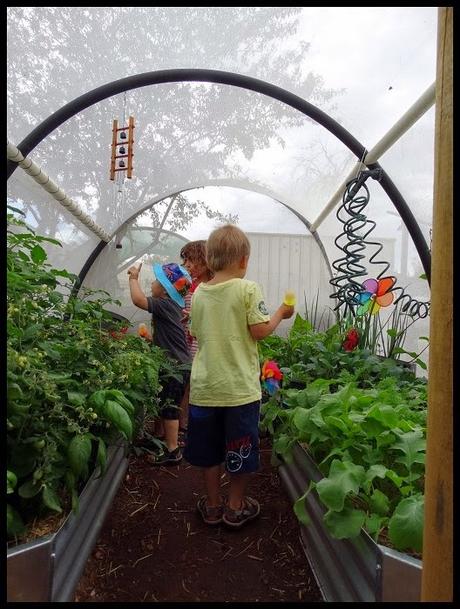 Monday 16th Feb
Temperature Min 16.7C Max 28.2C
With the cooler weather the Grandies had a quick play out in the garden, explored the Shade Tunnel and then they were off back home.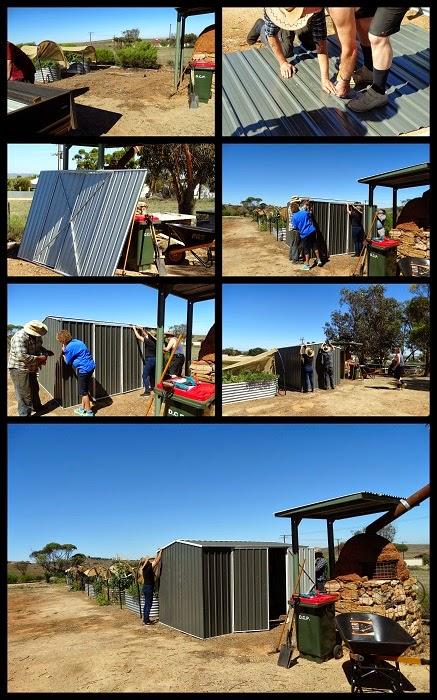 Tuesday 17th Feb
Temperature Min ?C Max 31.8C
Spent the morning at the Community Garden where many helpers put together another shed. I started to  tidy up my old plot which I have been allowed to have back!!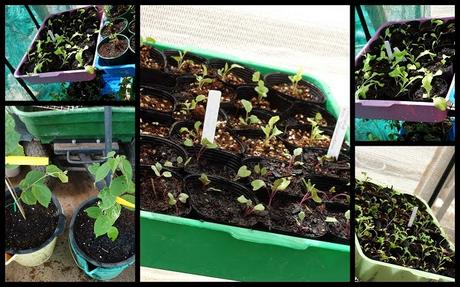 Wednesday 18th Feb
Temperature Min 12.5C Max 30.9C
Potted up new fruit trees Japanese Raisin Tree Hovenia dulcis and Phalsa Grewia asiatica. Potted 2 citrus trees that have been in their pots for a while. Potted up Lettuce; Tennis Ball, Australian Yellow and Freckles, 60 Day Cauliflower, Red Choi, Red Cabbage and Mizuna seedlings.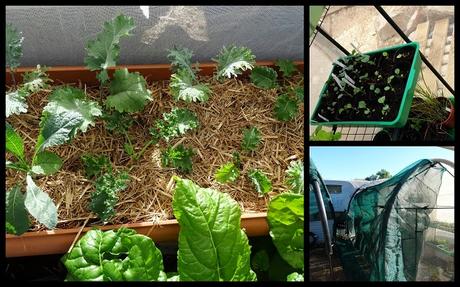 Thursday 19th Feb
Temperature Min 16.4C Max 34C
Potted up Brussels Sprouts Ruby and Long Island, Broccoli Albert seedlings. Planted up a wicking tub in the Shade Tunnel with mixed Kale seedlings.
Connected drippers to trays of seedlings in shade tunnel, Put sand in bottom of trays to stop the seedlings drowning. Tuned a timer to water while we visit the Grandies this weekend...it's going to be HOT!!!
Put extra shade cloth over the end of the new plant area to stop the hot west afternoon sun beating down.
Friday 20th Feb
Temperature Min 17.5C Max 35.7C
Travelled up to visit the Grandies to help their Dad with some jobs in the garden while their Mum was away on a short holiday.
Saturday 21st Feb
Temperature Min 18.1C Max 35.4C  in the garden and 37.9C where we were.
This week I have been harvesting...
Volunteer Amaranth
Chives Onion and Garlic
Cucumbers Green and Mini White ones
Baby Kale
Parcel
Parsley
Radish
Silverbeet
Spring Onions
Tomatoes
Tromboncino
Zucchini
Apples
Figs
Grapes
Plums
Strawberries