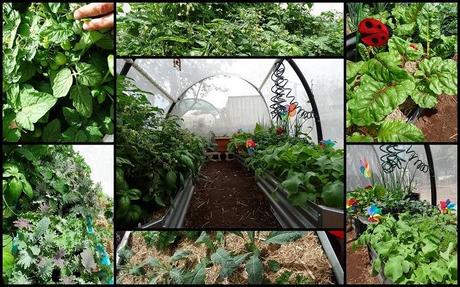 Even with temperatures getting up around 40C this week the shade tunnel plants are growing berserk!
Notes from my garden diary...Feb 2015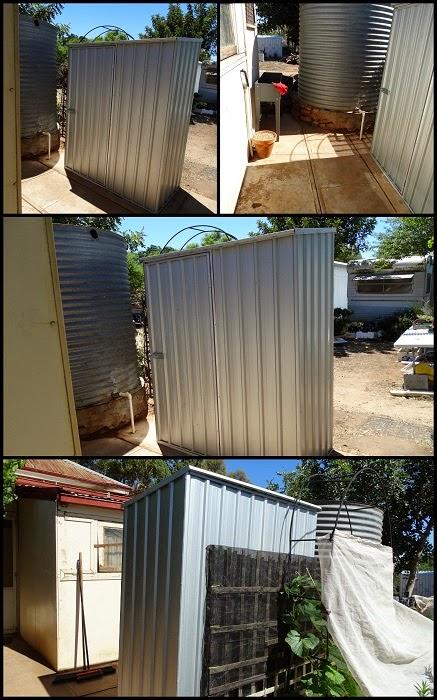 Sunday 8th Feb
Temperature Min 15.4C Max 35.9C
Returned from Adelaide. Stopped off to buy a new small shed on the way. Later we put the shed up!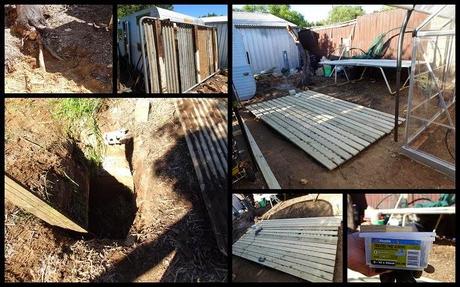 Monday 9th Feb
Temperature Min 14.4C Max 34.5C
Built a wooden deck over a disused well hole out the back to make it safe.
Had to start by clearing of the temporary cover and attacking a few tree roots that were in the way (the tree is dead). Doc reinforced the bottom of the old cover (yes it is a re-used trampoline frame) then set about fixing the decking planks to the frame.
When finished it is now fully safe and also gives me more room to put more places for plants!!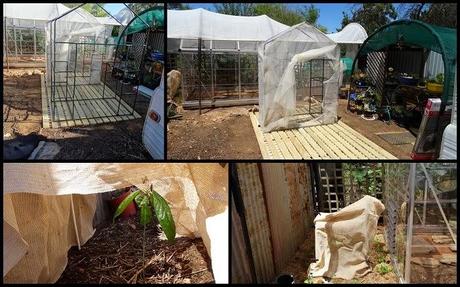 Tuesday 10th Feb
Temperature Min 13.5C Max 34.8C
Using the space on the deck to put 2 smaller greenhouses for starting seedlings off. One moved from under the pergola. Doc assembled the other while I was at the Community Garden. These will be covered with shade cloth and I won't be using the plastic covers that came with them.
When we took the plant table away from behind the well/deck I found a seedling Avocado growing happily. With it's shade now gone I had to cover it with some shadecloth...while I had the shadecloth out I also covered the Banana behind the greenhouse that wasn't enjoying the hot weather.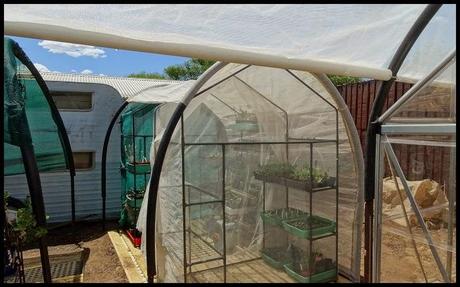 Wednesday 11th Feb
Temperature Min 15.6C Max 36.9C
Turnip Purple Top seeds direct sown in Shade Tunnel, Butter Swede seeds in garden
Into punnets I sowed Beetroot Chioggia, Heirloom Mix and Cylindra; Celeriac Verona and Blue Flax
Found a shade arch on one of the old beds which fitted over the Deck just perfect even included pre-hemmed 50% white shade cloth.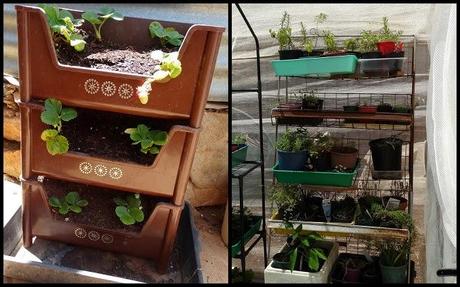 Thursday 12th Feb
Temperature Min 17.4C Max 35.5C
Found another shelf from the old green house to put in the deck shade area. Sorted through pots (pruning and re-potting).
The propagation area is taking shape!
When we cleared out the dog enclosure we found this old vegetable shelf holder thingy...and now it is a vertical strawberry bed!!!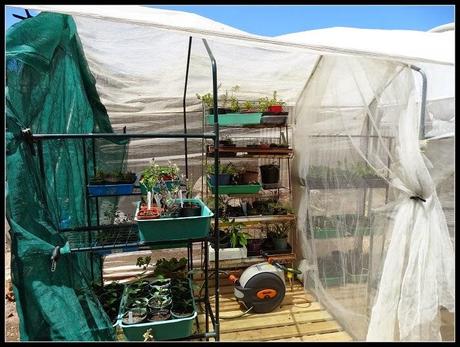 Friday 13th Feb
Temperature Min 17.9C Max 37.9C
With higher temps now I put extra shadecloth on the end of the deck shade.
Started to clear Back pergola...trimmed low growing Grapevines and Blackberries and moving pots to wherever I could find some room.
Saturday 14th Feb
Temperature Min 21.7C Max 37.8C
Cleared Back Pergola
We had guests arriving!!!
This week I have been harvesting...
Volunteer Amaranth
Chives Onion and Garlic
Cucumbers Green and Mini White ones
Baby Kale as micro greens
Parcel
Parsley
Radish
Silverbeet
Spring Onions by slicing close to the base so they will regrow
Tomatoes
Tromboncino
Zucchini
Apples windfalls were cooked up
Figs
Grapes
Nashi
Pears
Plums
Strawberries