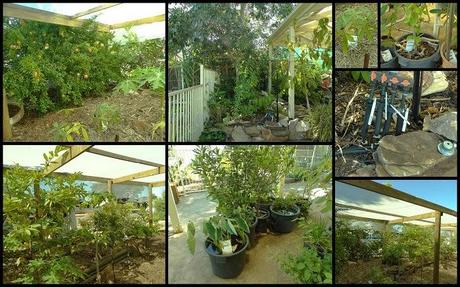 On the weekend we traveled to Adelaide to visit an unusual kind of Community Garden.
Joe's Connected Garden in Elizabeth is a shared urban garden with over 400 varieties of fruit trees mostly hot weather tolerant. Four suburban gardens linked together for food production. Three of the gardens are covered with an amazing anti-bird net. Joe also grows sub-tropical fruit plants, many in pots and sheltered in the front garden and also maintains an extensive nursery with plants for sale to help finance the gardens. This is an interesting way to allow suburban gardeners have access to more land for food production, they are involving the local community as well with many people volunteering their time on Saturday mornings to help with many of the larger projects and general upkeep of the garden.

Notes from my garden diary...Feb 2015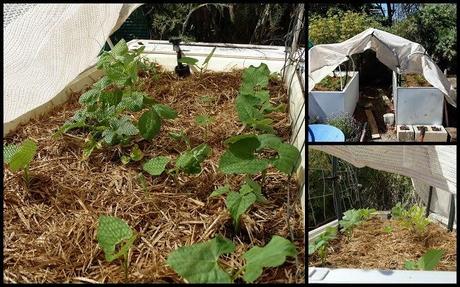 Sunday 1st Feb
Temperature Min ?C Max 28C
Mulched around the garden...the temperatures will rise soon now it's February! Put shade over newly sown beans. Began the long task of emptying out the old storage caravan.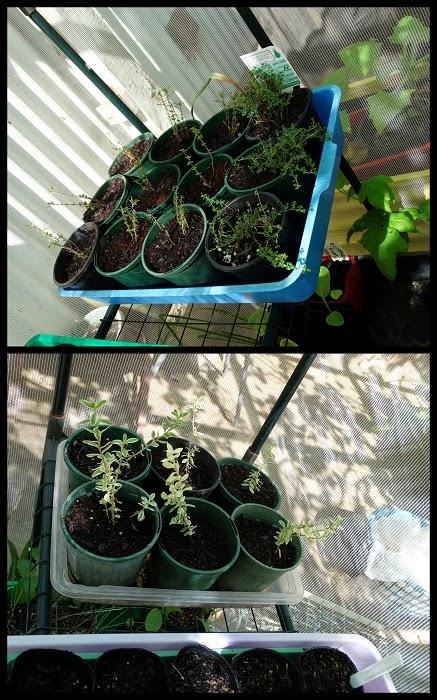 Monday 2nd Feb
Temperature Min 8.5C Max 26.4C
Potted on cuttings of Winter Savoury, Blue Daisy Felicia amelloides variegata, White Flowering Thyme.
 
Tuesday 3rd Feb
Temperature Min 11.2C Max 28.7C
First Community Garden Committee Meeting and Twilight Meet for 2015. It was great to see how everything has survived and grown with the rain last month (including the weeds of course). The winds have been causing damage that will need to be repaired and plans are under way for building the new shed and planting up large tank beds for shared Community garden plots where every one will pitch in and help grow food for all. With the AGM next month we are setting things up ready for the withdrawal of all Government Health Department support.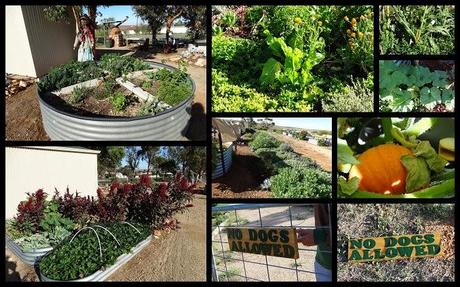 Wednesday 4th Feb
Temperature Min 9.9C Max 26.9C
Took some signs up to the community garden. Doc has made and attached the "No Dogs Allowed" signs for the gates.
Made shade screen for back of Hippy Bus and fixed front sun screen cover.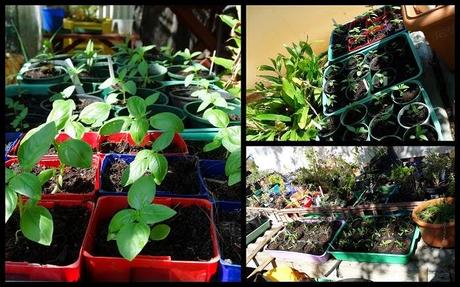 Thursday 5th Feb
Temperature Min 10.7C Max 28.1C
Potted on Basil Blue Spice, Thai Lime, Thai and Sweet
Dianthus Fringed Pink
Made sure all pots were well watered and have some water in reserve as we are going away for a couple of days and the temps are rising.
Friday 6th Feb
Temperature Min 15C Max 34.7C
Travelled to Adelaide in the Hippy Bus.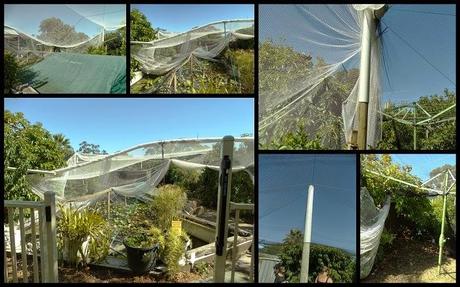 Saturday 7th Feb
Temperature Min 17.4C Max 36.2C (was 38.6C where we were)
Visited Joe's Connected Garden. Photo above shows the extensive bird netting over three of the gardens.
Bought 2 Fig Trees, 2 Loquats and a Guava.
This week I have been harvesting...
Volunteer Amaranth micro greens
Chives
Cucumbers Green and Mini White ones
Kale Baby as micro greens
Parcel
Parsley
Silverbeet
Spring Onions by slicing close to the base so they will regrow
Tomatoes
Tromboncino
Zucchini
Plums
Strawberries