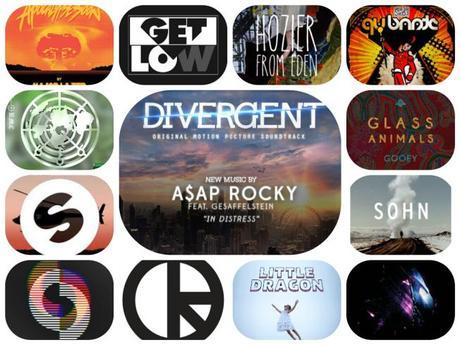 While February is the shortest month of the year, it was jam-packed with exciting new music news and releases. All eyes were on London for the 34th Brit awards which saw Arctic Monkeys sweep the board, not to mention Alex turners 'interesting' speech. The NME Awards Shows with Austin Texas took place and further headliners for summer festivals were announced including Dolly Parton and Blondie for Glastonbury, Arctic Monkeys for Reading&Leeds and T in the Park, Avicci and Calvin Harris for Creamfields and so much more… roll on summer. If that wasnt enough, Oasis announced their 20th anniversary reissue of Definitely Maybe, 'What's The Story Morning Glory' and 'Be Here Now', we heard new music from Todd Terje and Irish group Villagers provided an alternative song for Sochi. Prince continued his secret gigs around London and Tinie tempah high fived Prince william at the Baftas…. and breathe.
Now in March we look forward to the iconic SXSW festival in Austin Texas, the Winter Music Conference in Miami  and another exciting month of music. Check out my February picks below with over 60 minutes for your listening pleasure
1) Major Lazer pmiered their new single 'Aerosol Can' featuring 'man of the moment' Pharell Williams. Pharrell, who recently debuted his second album 'Girls showcases his rapid rap skills over a minimal percussive beat and delivers an infectious, uptempo and fun track!
The dancehall crew recently unveiled their new five-track EP 'Apocalypse Soon'  via Mad Decent, featuring a host of special guests from Pharrell Williams to Sean Paul, RDX & Moska. Be sure to catch Major Lazer at Bestival this year and Pharrell at Coachella and Wireless Festival.

2) Klaxons – There Is No Other Time (Prod Gorgon City)
British indie rockers Klaxons have unveiled their new single, 'There Is No Other Time'. The highly anticipated single premiered on BBC Radio 1 with  Zane Lowe and serves as the first new material to surface since their 2010 album 'Surfing The Void'. Produced by Gorgon City, who brought us 'Ready for Your Love'  ft MNEK, 'There Is No Other Time' is the first single to be taken from their forthcoming third album 'Love Frequency' due this June.
 Be sure to catch Klaxons at Reading & Leeds festival this summer.

3) Hozier – from Eden
With the massive success of last years 'Take Me To Church', Irish singer/songwriter Hozier (Andrew Byrne) unveiled his new single 'From Eden'. Once again, Hozier delivers a soulful and emotive track with sweeping vocals and plenty of rhythm and blues. A festival favorite this year, Hozier is set to perform at Reading and Leeds as well as SXSW in Austin Texas and Longitude in Dublin. 'From Eden' is taken from Hoziers four-track EP of the same name and is available from iTunes now.

4) Iggy Azalea ft Charlie XCX – Fancy
Feisty Aussie rapper Iggy Azalea, has unveiled her latest collaboration with British alt-pop singer Charlie XCX. 'Fancy' serves as the follow up to previous singles such as 'Change Your Life', 'Bounce' and 'Work' and premiered with MistaJam on BBC Radio 1. With production from Invisible Men and the Arcade, 'Fancy' delivers an infectious driving beat with it's looped synths, Charlie's 'hands in the air' hook and Iggy's swagger-filled rap flow.
'Fancy' is set for release April 6th and is set to be taken from Iggy's forthcoming debut album 'The New Classic', due later this year. Be sure to check out their 'Clueless' inspired video as well as upcoming performances for Iggy at Wireless and Charlie XCX at SXSW.

5) Dillon Francis & DJ Snake – Get Low
Dillon Francis and DJ Snake have teamed up for 'Get Low'; a monster of a track encompassing a hefty mix of Moombahton, electro, trap and even Arabian influences.  Having both achieved successful solo careers with singles such as DJ Snake's 'Bird Machine', 'Turn Down For What' and Dillon's epic 'Masta Blasta' and 'Without You' ft TEED. 'Get Low' serves up an explosion of Dillon's trademark Moombahton roots while DJ Snake brings the big room bass.
'Get Low' is available from iTunes now. The duo are joining Skrillex on his 'Mothership Tour' kicking off in the US end of May.

6) Panteros666 – Baby F-16 (Original and Cause & Affect Remix)
French producer Panteros666 (AKA Victor Watel and one quarter of Club Cheval), is already in good company with fellow Bromance Records label mates, Gessaffelstein and Brodinski. With the success of the incredibly infectious 'Baby F-16', the single has now been reworked by house duo Cause & Affect and delivers a bass heavy beast with distorted and echoed vocals. Be sure to catch the duo at one of their many upcoming gigs.

7) Martin Garrix & Firebeatz – Helicopter
Having already released massive dance anthems from 'Animals' to 'Wizard',  17 year old Martin Garrix has done it again! Garrix unveiled his latest single 'Helicopter' with Dutch duo Firebeatz via Spinnin Records. Helicopter delivers an anticipating build, infectious synths and an incredible drop sure to cause a stir. With massive support from fellow DJ's on the circuit, Garrix seems unstoppable! Upcoming performances include SXSW and Future Music Festival.

8) Royal Blood – Little Monsters
Royal Blood made up of Mike Kerr (bass, vocals) and Ben Thatcher (drums) from Brighton, are another act to emerge from the ever successful BBC Introducing. Having started off the year with a nomination for BBC's Sound of 2014 poll, the rising rockers premiered their new single 'Little Monsters' with Zane Lowe on BBC Radio 1. Little Monsters serves as the follow up to their debut single 'Out of the Black', which was released on the band's own label Black Mammoth Records. Their riff-laden power rock has drawn comparisons to artists such as The Black Keys, The White Stripes and Queens of the Stone Age, so it's no surprise the duo are gearing up to support Arctic Monkeys this May. Further dates include NME Awards Tour with Interpol, Temples and Circa Waves kicking off March 18th and Reading and Leeds festival.

9) Little Dragon – Klapp Klapp
Swedish pop group Little Dragon unveiled their new single 'Klapp Klapp', taken from their forthcoming fourth studio album 'Nabuma Rubberband'. The synth-pop quartet deliver a groove laden vibe with quirky rhythms and deep synths, while Yukimi Nagano's alluring and warm vocals soar above. Be sure to check out the two videos for 'Klapp Klapp' which sees 'Nabil' take on creative duties, as he did for Kanye West and Frank Ocean.
Nabuma Rubberband, is set for release May 12th via Because Music.  Pre-order the album on iTunes and receive Klapp Klapp as a free download. Upcoming performances included supporting Foxes, and dates at Coahcella and Secret Garden Party.

10) Sohn – Artifice
London, now Vienna based producer Sohn,  previously produced for artists such as Banks, Disclosure, Kwabs and Angel Haze. Now, Sohn is gearing up for his debut album 'Tremors', due April 7th with lead single 'Artifice'. The single premiered with Zane Lowe on BBC Radio 1 as his Hottest Record and serves up a fresh track filled with electronic textures, layered synths and Sohn's captivating vocals delivering an infectious chorus.
Upcoming gigs include London's Village Underground April 17th, before embarking upon  a 16 date tour of North America this May.

11) Jungle – Busy Earnin'
Mystery duo Jungle made up of T and J, have steadily built up their fanbase with their electro-tinged, tribal funk vibes. Their new single 'Busy Earnin' serves as the follow up to previous single 'The Heat' and 'Platoon' which received its premiere with Zane Lowe on BBC Radio 1. 'Busy Earnin' oozes swagger with it's feel good vibes, sparkling synths and soulful falsetto vocals mixed with some brass instrumentation –  The perfect summer festival soundtrack.
With a debut album set for release in 2014 via XLRecordings, be sure to catch the duo at The Oval Space, London on May 23rd and Reading and Leeds festival this summer.

12) Grum – Tears
Leeds producer Grum premiered his new single 'Tears' with Annie Mac on BBC Radio 1 and serves as the follow up to 'The Theme'. The shimmering synth heavy track gradually builds to a euphoric big room house smash, drawing comparisons to Eric Prydz with his progressive dance style. Mix that with a throwback to some 90's rave and disco influences and you're in for one gem of a track.
Grum's highly anticipated second album 'Human Touch' is due April 14th while 'Tear's is set for release April 7th via Heartbeats.

13) Glass Animals – Gooey
Oxfordshire Indie-pop quartet Glass Animals unveiled their new single 'Gooey', produced by fellow band member Dave Bayley and award winning producer Paul Epworth (Foster The People & Florence And The Machine)
'Gooey' presents a dreamy and intricate track bursting with energy and a perfect blend of psych-pop. The shimmering falsetto vocals create a beautifully atmospheric and serene track.
Gooey is available to download now, while their debut album is expected later this year via Paul Epworth's new label Wolf Tone label. Upcoming performance from Glass Animals include SXSW in Austin Texas and 3 dates in Australia.

14) Deep Dish – Quincy
Deep Dish are back! The legendary progressive house duo, made up of Sharam and Dubfire, unveiled their new single 'Quincy', which premiered as Pete Tong's Essential New Tune. With an impressive back catalog of tracks such as 'Say Hello', 'Thank You', 'Flashdance', and 'Dreams', 'Quincy' is the first new material to surface since their 2005 album 'George Is On', before later dispanding in 2006 to persue solo careers.
Deep Dish delivers an exciting and deeply layered progressive single. With its pulsating bass lines, soft synths and dark house vibes, Quincy lures you into a comforting trance-like state of mind that you never want to end.
Set for release March 31st, upcoming performance include headlining the Ice Palace as part of the Winter Music Conference in Miami

15) Henry Fong – Stand Up
Get ready for an absolute banger of a track! Henry Fong has unveiled his new single 'Stand Up' which received its release through none other than Skrillex's label OWSLA.
'Stand Up' delivers a monsterous electro anthem with some punchy brass elements, hefty bass and some insane drops. With his style encompassing big room progressive house, trap and hip hop, Fong is on course for an exciting 2014.
The Stand Up EP features massive remixes from Milo & Otis, Destructo, and DallasK and is available now.

16 – A$AP Rocky Ft Gesaffelstein – In Distress
Forthcoming scifi film 'Divergent' has gathered an all star lineup for its official soundtrack including Ellie Goulding, Banks, Skrillex, Tame Impala, Kendrick Lamar, Chance the Rapper and M83. The latest addition includes the exciting collaboration of US rapper A$AP Rocky with French Dj/producer Gesaffelstein (Aleph, Kanye- 'Yeezus').
'In Distress' perfectly captures the futuristic vibe of the film with Gesaffelsteins intense and industrial sounding production. Though not a typical beat for A$AP, he nevertheless displays his effortless rap skills as he lets loose amidst Gesaffelsteins heavy electro based production.
Divergent hits cinemas April 4th while the official soundtrack is available now.
17) The Horrors – I See You
The Horrors announced their forthcoming fourth LP 'Luminous' which serves as the follow up to 2011′s 'Skying'. 'I See you' premiered with Zane lowe on Radio 1 and delivers almost 8 minutes of psychedelic, ambient rock with its synth driven melody that gradually builds to an anthemic crescendo.
Luminous is set for release in the UK on May 5 and in the US on May 6 through XL Recordings. Preorder your copy now and receive 'I See You' instantly. Upcoming dates for the group include Field Day, Isle of Wight and LoveBox Festival. In the meantime, listen to the track here.