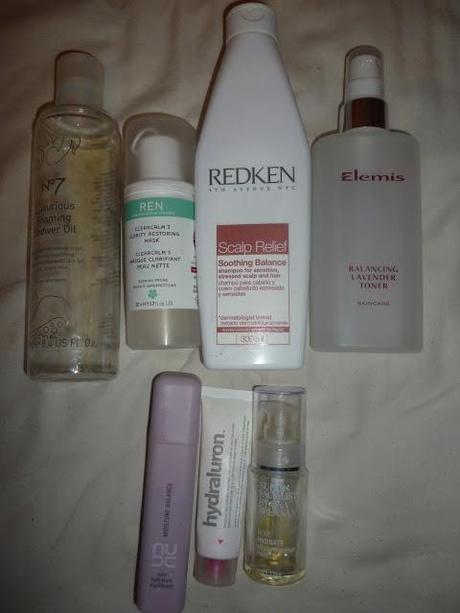 It is time again for my monthly empties post, I have used up some well loved products this month.
No7 Luxurious Foaming Shower Oil - I got this when it was on offer to replace my L'Occitane Almond Shower Oil as I couldn't justify the £17.50 price at the time. This is a great replacement, though I do still love my Almond shower oil a lot more. I mainly use this for shaving my legs, which it did a great job at. It left my skin smooth and moisturised the only off putting thing was the scent, it has a floral soapy scent that I just couldn't get on with.
REN Clearcalm 3 Clarity Restoring Mask - First up I think I deserve a pat on the back for using up one of my million face masks I have. ;) This has to be one of my favorite blemish fighting masks, it helps control oil as well as drawing out all the gunk from your skin. The amazing thing is it doesn't leave your skin feeling tight, so great for combination skin. This will be repurchased at some point for sure.
Redken Scalp Relief Soothing Balance Shampoo - Sometimes my scalp can get a bit dry so I like to have a shampoo available for when this happens. This was a good shampoo for this but it didn't blow me away. It had a lovely peppermint scent to it and soothed the scalp.
Elemis Balancing Lavender Toner - I think I can finally say that this is my holy grail toner. Coming from fickle me this is saying something. Elemis toners are alcohol free and just leave the skin feeling refreshed after use. Even though I like to try out new toners I will always come back to this one as I know it works.
Nude Moisture Balance - I got this moisturiser as a free gift for my Birthday last year from Space NK. I completely forgot I had it until I started lusting after some Nude products a while back. This a gel type moisturiser that leave yours skin really matte but still hydrated. I don't think its available any more which is a shame as it is a gorgeous moisturiser.
Hydraluron - I think a lot of people have heard or tried this product. It is a gorgeous hydrating serum that I think will work wonders for any skin type. I didn't use mine everyday, just when I felt like my skin needed it and it always added that extra boost to my skin. This is on the list to repurchase.
Super Facialist Rose Hydrate Miracle Makeover Facial Oil - This is a gorgeous cleansing oil that I really enjoyed using. It removed make up easily and left my skin feeling clean and smooth. Even though a little goes a long way I wish the bottle was bigger as this only last me a month or so and I didn't use it everyday. I probably would still repurchase it though as its a gorgeous oil.
Have you tried any of these products?