Here are all the things I have used up in February.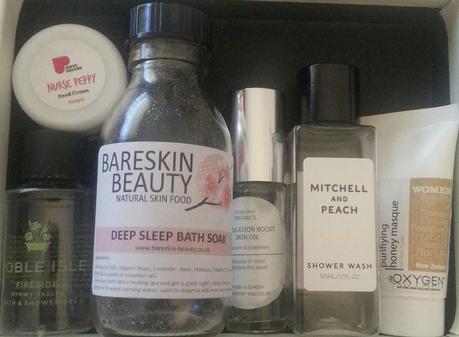 Peppy Galore Nurse Peppy Hand cream (10g). This is such a lovely hand cream. Has a refreshing citrusy scent and I really enjoyed using it.
Noble Isle Fireside shower gel (30ml). This is my favorite fragrance from the Noble Isle products I have tried. It has a warm and spicy scent, which is almost masculine.
Bareskin Beauty Deep Sleep Bath Soak. I reviewed these bath salts earlier in the month. Another product I would really recommend.
Inner Soul Organics Circulation Boost Skin Oil (30ml). This is a super luxurious body oil with geranium and rosemary. Very moisturising and leaves the skin ever so soft.
Mitchel and Peach English Growers shower gel (50ml). I have had a sample of this before and it is pleasant enough, I just didn't think it was anything special.
Oxygen Purifying Honey Masque (size unknown). This is a lovely little mask, made my skin look brighter.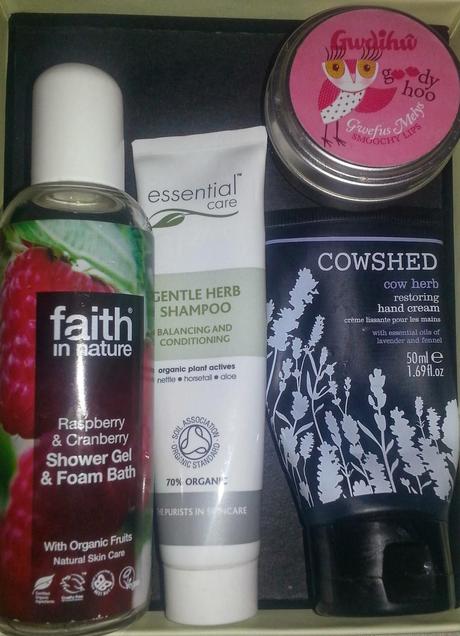 Faith in Nature Raspberry & Cranberry shower gel & bath foam (100mls). Lovely fruity fragrance which is quite sweet. This is a really gentle shower gel. When used in the bath it gives lots of bubbles. Didn't dry my skin and is also reasonably priced.
Essential Care Gentle Herb Shampoo (30mls) is another product I have used before and really like. It was a very close call between buying a full size of this or of the BiOrganics shampoo.
Cowshed Restoring Hand Cream (50mls). This smells lovely. It is a very light hand cream that I would use on good hand days. It absorbs very quickly.
Gwdihw Smoochy Lips (25g). I really feel like I have had my moneys worth with this, it has lasted ages. Although this is a lip balm, it's great for dry skin anywhere. I have been using it as a foot balm. This really smoothes dry skin.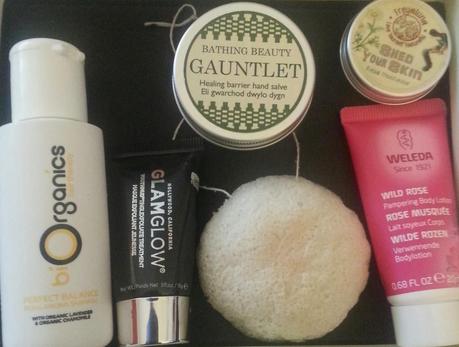 BiOrganics Perfect Balance shampoo (30mls). I really like this shampoo. It makes my hair nice and shiny. It is the first shampoo I have used in a long time where I can manage to skip a day. I have already bought the full size of this.
Glamglow Youth Mud Tinglexfoliate (15g). I really didn't get on with this and definitely will not be buying the full size.
Gauntlet Hand Salve (30ml). This is absolutely fantastic stuff. Well and truly sorted my sore and chapped hands out.
Konjac Sponge. This is another item that I have had a lot of use from. After nearly 4 months it is time to admit it is past it's best and open a new one. I already have a replacement from a recent Love Lula box.
Shed Your Skin Facial Moisturiser (size unknown). This is a very good moisturiser for dry skin. I liked this a lot.
Weleda Wild Rose Pampering Body Lotion (20mls). This is a nice light body lotion, for dry skin it is probably better in Summer but I did like using it.
This month I seem to have used quite a few things up, and I was feeling a little smug. That was until I had a little tot up of all the things that had come in my beauty boxes and the things I had bought. I have only used up a few more things than I have acquired. For this reason I have only stated which I have replaced rather than ones for the wish list. I really do need to focus on using up my products. I may even have to take drastic action and drop a beauty box. Time for another crackdown, otherwise this stash of mine will never be under control.