Airtel Games is one of the leading, premier game apps, downloaded by millions of people each month from around the world. The telecom major has tied up with Playphone Inc, a global leader in mobile social gaming, who are known to offer the best online mobile game. Find over 2,000 exciting and challenging games spanning across a variety of genres, including Action, Adventure, Arcade, Puzzle, Sports, Quiz, Education etc. with additional games added on a daily basis.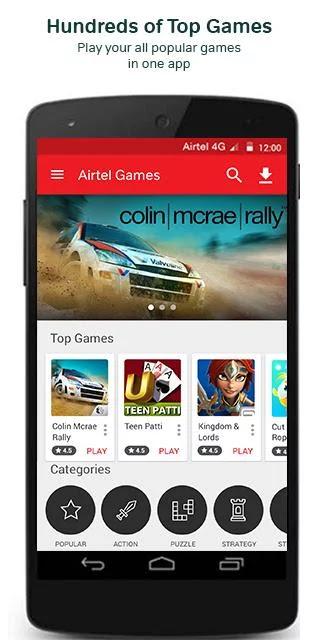 Available for download on Android smartphones and tablets from the company's website, Airtel customers can download the app free of cost and can choose from a wide array of games that will keep them occupied for days at a stretch. Non-Airtel users can also jump onto the bandwagon and access any game for free at a nominal monthly subscription amount of Rs.29. Here are some of the stand-out features which make this app worth downloading on your device.
Colourful and Easily Navigable interface
The first thing that comes to mind after opening this play games app is how well designed and vibrant the interface is. The interface is well organized and neatly divided into three categories—what is trending, latest games and different genres. Additionally, there is a search button which allows you to look up the game of your choice quickly and with relative ease. The visuals are also on point which makes for easy reading and navigation.
Ad-Free Experience
Let's face it, pesky pop-up ads tend to completely dilute and spoil the mobile gaming experience. Moreover, accidental click-through on such banner ads can get extremely frustrating when you're playing as it effectively acts as an obstacle and ruins the experience for avid gamers. When you play games on the Airtel app, enjoy a seamless and ad-free gaming experience.
Read Also
:-
Beginner's Guide - Recharge Your Mobile Through My Airtel App
No hidden charges
One of the best features of this app is that this application is absolutely free of cost and comes with no hidden charges. Most of the times, games which are advertised as 'free' often tend to charge additional bucks to unlock certain special abilities or locked levels which puts the gamer in a limbo. Airtel users can enjoy all the games in the library at no extra cost, including the paid ones and ones with in-app purchases. By getting rid of in-app purchases altogether, Airtel has seemingly hit the sweet spot in terms of usability with this app.
Play Offline
Another key feature of this app is the ability to download any game and play it offline anytime and anywhere you want. Even if you're in an area plagued with network issues, you can download your favorite games beforehand and play it on your device without an internet connection. Furthermore, there is no limitation to the number of downloads you can make either.
Library of Games
This app has an enviable collection of over 2,000+ games developed by some of the top global developers such as Square Enix, Zeptolab, Thumbstar, Tresensa, Bulkypix and more. It offers the latest and trending games across all categories while catering to every genre thus promising the user a superlative gaming experience. Additionally, the company intends to add a free game every day thus leaving the user, spoilt for choice.
Read Also
:- Download Best Free Racing Games For Android Mobiles
Final Thoughts
Playing your favorite online games has never been this easy. With unparalleled access to a massive library of the latest and greatest premium games absolutely free, there's no better time than now to get started with Airtel Games.