FC Schalke 04 vs Real Madrid
This draw is highly anticipated due to the mere fact that the Spanish Giants are involved. Of course Schalke isn't some team that should be considered "easy", but Madrid should have no problem against Schalke.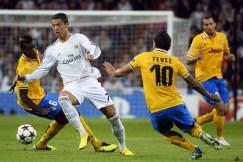 Cristiano Ronaldo has not been able to stop scoring this season as he leads the Liga BBVA with 22 goals and broke a record for most goals in the CL group stages with 9.
Real Madrid are one of the favorites to win the Champions League mainly because of Cristiano Ronald0 and several other game-changing players. This is their biggest strength. Madrid has a proven goal getter in Ronaldo, who was voted the best player of 2013 and hasn't slowed down since. He scored nine goals in the group stages of the Champions League and therefore broke a record for most goals in the group stages. On top of that, he has 22 goals in 21 La Liga matches. The most dangerous trait about the Portuguese star is his sudden movement while running at blistering speed. This action catches even the worlds best defenders off guard. When he beats the first man he cuts into the box and will either use his incredible shot or create gaps for his team mates while luring defenders towards him. With talents available at every position on the pitch, such as Gareth Bale and Luka Modric, the chances Ronaldo creates won't often be wasted. If Ronaldo plays a good game to his standard then Madrid will not have a problem getting past the Germans.
Real Madrid's biggest weakness is their over confidence going into games like this. It is hard to go on a pitch and try your best when the whole football world expects you to win. But that doesn't mean that you can play a little practice football against a weaker team. Football is still a game that can be won by anyone and Schalke certainly didn't fight for 2nd place in the group stages for nothing, and will do anything to win this draw. They want to win as much as Madrid NEED to win. If Carlo Ancelloti and Zinedine Zidane can make the players aware of the battle that will be fought on the pitch then it will be a much easier game for them.
FC Schalke 04 are currently fourth in the Bundesliga, which isn't amazing, but also isn't bad. Their biggest strength is their star trio in attacking midfield that consists of Kevin-Prince Boateng, Jefferson Farfán and Julian Draxler. Julian Draxler is only 19 years of age and is connected to all kinds of big money transfers to the biggest European clubs, such as Arsenal. The german prodigy is known for his incredible touch and dribble. Draxler is still very young and has lots to learn, but could be the key factor to an upset.
http://www.youtube.com/watch?v=MuUKJ2olJk0
Fárfan has been very successful since moving to Schalke in 2008. This season he has racked up five assists to go with eight goals. He is mostly known for his flaming speed down the wing and can certainly send in some crosses for the strong header that is Klaas-Jan Huntelaar. Kevin-Prince Boateng has scored six goals in his first season at Schalke and is especially confident in his ability to take penalties. Physically, he is very strong and is a great all round attacking midfielder. This attacking trio that supports Huntelaar could cause some trouble in Madrid's defensive half, but only if they ALL step up.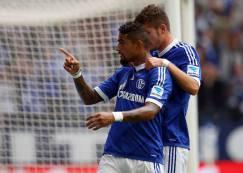 Can Kevin-Prince Boateng step up and lead FC Schalke 04 to a surprising win? A penalty could do the trick.
FC Schalke 04 has a weakness that cannot be solved during a single match or over a short period of time. Their defence is not the best, as they have conceded 30 times in 22 games. With the back four usually consisting of Benedict Höwedes, Dennis Aogo, Joel Matip and Atsuto Uchida, Schalke is lacking a star center back that can keep the defence strong. They are missing this anchor in the back, and Real Madrid will certainly use one of the greatest attacking fronts in Europe to exploit this problem. Schalke only stands a chance if they park the bus and play quick, effective football when getting possession.
Prediction: (S04 1 - 3 RMFC), (RMFC 3 – 0 S04)