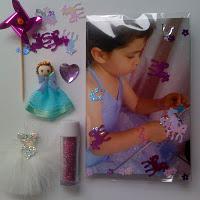 It's no secret that I was making 30 aquarium keepsakes for Mimi's fourth birthday party last weekend; I just haven't blogged the how-to as yet.  What I wanted to blog today is how to use any leftover cellophane bags.
Here's one idea that could be used for a save the date, invitation, keepsake, or home storage of a favourite photo.
Insert a photo into a cellophane bag (look for bags that will suit the photo size, or cut the photo to suit.)  I used one of my most favourite photos from Mimi's Fairy Party photo shoot.
Alternatively - textured paper, a drawing done by the children, a party invitation cut to A5 size would work, or even a postcard with someones address and your message on it could be fun.
Pop in some sparkle-confetti; I used some pretty ponies, flowers and horseshoes, but stars would also suit the chosen photo.
Turn the photo over, fold the end of the bag into an envelope/triangle shape and seal it closed with a sticker.
If it's to be mailed consider sticking a stamp straight onto the cellophane bag and making sure the address is visible (I suggest you mail one to yourself first as a test!)
If you're not mailing it, then consider adding other embellishments to the front such as mini pinwheels or umbrellas, fancy stickers or miniature scrap-booking dolls.
Not sure it's right for you?  Then take a short cut and simply cut a piece of scrapbook paper to fit the width of the bag and about 1" / 3cm wide and fold it in half over the open end of the bag.  Once the bag is filled with the invite or treats, staple it shut.