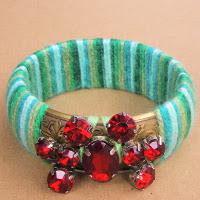 It's no secret that I posted a
woolen bangle tutorial
a couple of days ago.  Well yesterday I turned the same idea into a wearable Christmas Wreath Bangle.
Using an old gold bangle, I chose a green version of my most recent discovery; multi-coloured wool.  The problem this time, was that the bangle didn't 'open up', so I couldn't fit the ball of wool through the gap.  Instead I had to cut a long length which I hoped would be sufficient.  
It wasn't
.  Although I did consider cutting a new length to fill the missing section, I decided to forage in my odds and ends box of broken jewelry, buttons and beads, and found something I don't even remember where it came from but which looked like Christmas berries!
I wish that I'd tied the beaded embellishment in place with red, silver, or bronze-coloured string instead of the pale green which is too obvious, but on the upside, I was able to complete the project in about 15 minutes, which is my forever-aim, and it looks great on, so I'm happy.  It's official; multi-coloured wool is my favorite find of this month!
As I mentioned before, I think this project would be a fun party activity; provide the bangles, the wool to suit, and then let the children take home their handicraft as a keepsake.  The one I made is tribal enough to make a great Jungle Party take-home treasure.
PS - thanks to
Craft Gossip
and
Make + Takes
for sharing my
scrabooking with wrapping paper
and Travel Advent Calendar posts; I love you!