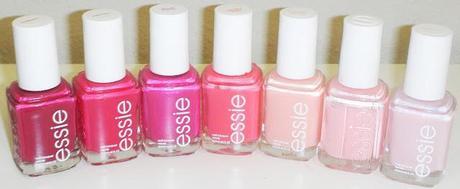 Hi all!  Hope you all are having a great start to May!  I just got done with one final today and have one more tomorrow(fingers crossed I do well!) and then I'm off for 2 months before I start summer classes!  Also this summer I (finally) turn 21!  So expect lots and lots of fun posts to come!:)
Today's post is super quick since I need to get back to studying and..well..truthfully I'm using blogging as an excuse to delay it ;)  So here are just some of my favorite colors for Spring!  All Essie of course, because no matter what every time in Target I always see a new color that I just have to have!
The colors are as follows from L-R: 
Raspberry, Watermelon, Tour de Finance, Cute As A Button, A Crewed Interest, Van D'Goh, and Pink-A-Boo
Very sorry for the lack of swatches and details but maybe I'll use those missing parts as an excuse for my next study break?? :)
And Now...
Some super exciting news!  The wonderful blog hopping site of Blog Cat nominated me and their other first 10 followers for their Blog Cat award! It's a great blog hopping site that I encourage all of you to follow because every month they give out this award and it is voted on by the readers and the winner gets ad space on their page plus lots of mentions from them via twitter, a featured story about your blog, blog tips and tricks, etc. You can check out their blog and more about the rules and other contestants here : http://blogcatmew.blogspot.co.uk/p/blog-cat-awards.html
It would mean so much to me if you all voted for me...please with a cherry on top?:)
Thank you all so so much for all the support!<33333