Today, on patterns, prints and shit, that's my field. Sun finally decided to come to town (even though it rained in the afternoon again) and so did I decide to take out the killer earrings (killer because they weight around 2 fricken tons and wearing it one more time would probably cause something like this). And what would the summer be like without lace, and better, a flower lace? See, you can already notice that garden turning up in my outfit. Not to get too weird and flowery, I harmonized the outfit with a stripy oversized shirt which made an acceptable outfit for school, even though I can't make my outfits any better because teachers already 'love' me now for my amazing 'office-like' creations. Actually no. I got scaled for my clothes a few times, but you can always blame it on the process of puberty - some have odd behavior, some odd clothes. I chose the second option, even though it's not an option. About office clothes, I don't like those at all because they're so normal and you can't make them look any better (but I'll still try) it's disgusting. Only way to make it better it's the shoes and accessories. And that's what brings me to my shoes - sandals to be more specific. Also flowery. Yes, flower power flower power flower power. Peace out.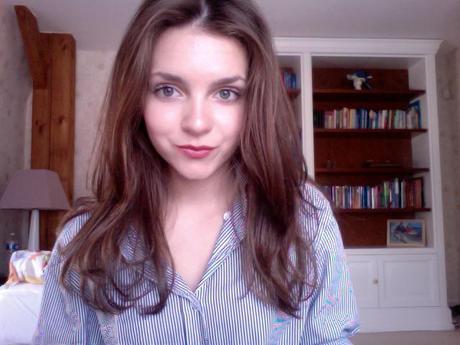 So without mentioning the intro that I suck at and talk shit so you can never find out what I'm about to talk about, here's how the look actually was because I don't like describing and make it too simple so you can almost imagine me in an oversized stripe skirt and a garden party all around. What a shame, I should've taken a picture in the garden so that you could have a quiz on who can find me first. To refer to the first picture finally, this is like the first time I wasn't too lazy to put a lipstick on and I must say it does make a change. I didn't put that much make up on because except for my fauna&flora inspired outfit, I didn't want my face to look like a flower, too.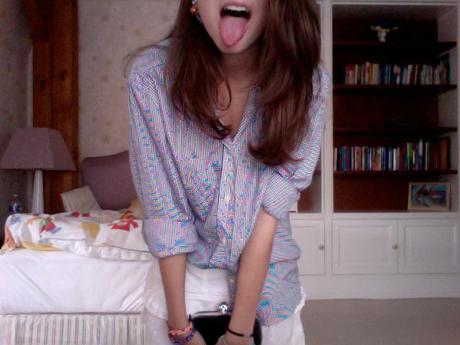 Why hello there McQueen, there always has to be the bad guy who steps on the flowers, in today's case it's the iconic skull. It breaks up the outfit's harmony and makes it more of a fashion rather than an innocent-gardener-about-town outfit. And because I didn't want to end up being a gardener, I took a purse, comprehensible enough? I got the bad guy right there.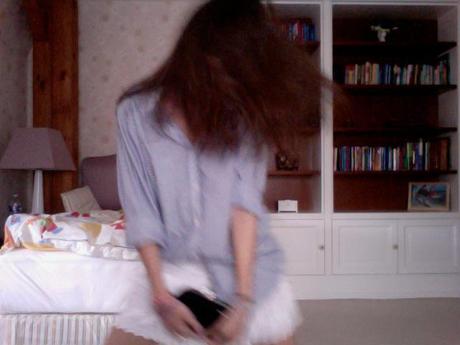 There's the gardener in the motion in case you're into art and you want to see the abstract professional photo booth photograph snap shot. Oh yeee, and the background. It's there on purpose, erhmm. Because there's flowers on my wallpaper, duh. I always carefully choose my photography places. No, actually I'm just kidding, I only choose my music carefully.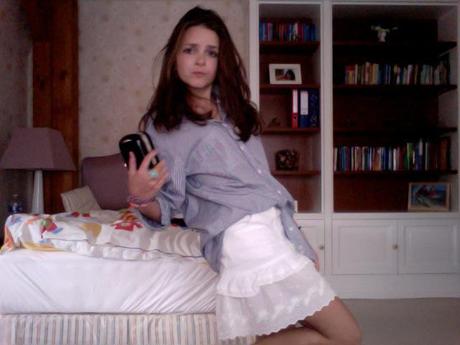 That's the 'watch out I'm cool/beautiful/smart/gorgeous and whatever' pose. Hate those, do those. However the purpose is obvious, work that turquoise oversized ring, and the mini arm party. Luckily the bracelets match with everything, that's why I rarely take them off. Now off to talk about the skirt, notice how it's put into 2 sections, I love that. Except my mother bought that skirt to me when I was 12 and it has these little 'diamonds' on the pockets so I ripped them off because I don't want to look like a legit douchebag. What's that, mcqueen and benetton for kids. Oh yeah, I'm still working that skirt anyway. And trust me that I'm going to, even if it was just for the sake of the lace and perfect sectioning.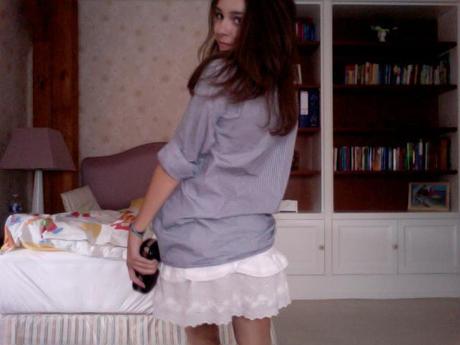 Shirt - Van Laack, Skirt - Benetton, Ring - Yves Saint Laurent, Clutch - Alexander McQueen I look high but just look at the skirt and the purposely not ironed shirt. No it's not, but it actually looks better this way, and also when you tuck in the shirt just partly, it looks more casual. Not like a fricken little pioneer going to the granny's. God bless McQueen clutches and god bless the non ring ones even more. Because those are too cliche and when you have other rings and you WANT to have them plus on both hands, I must say, you're screwed. No pictures of the footwear again, however I must admit I was barefeet here again so all you'd see is the gorgeous coco blue nail polish I got on right now, oh and my sore toe. Have a great week!