Given that my dad is a complete Pistachio fanatic it didn't take long to work out what kind of cookies I was going to make him for Fathers Day, and I have to say I'm more than pleased with how they turned out :)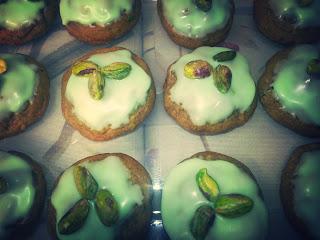 I really packed the pistachio's in to these to make sure every bite was sweet, nutty and full of that unmistakable flavor. The icing also has pistachio flavouring in and a touch of green colouring to really emphasize the unique color of the nut as well as the simple decoration which I think really makes the cookies pop and is just the right amount of garnish for them. I wanted these to be simple and full of flavor and I really feel I've achieved that with these.
Because the flavouring is simple and purely that of the nut I wanted to make sure I put enough in to really capture that flavor and to celebrate the pistachio without overshadowing it with other flavours that really just weren't necessary.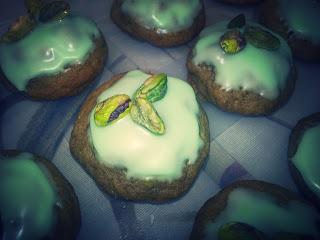 Of course the final verdict will come from my Dad on Sunday so I'm hoping I've done him proud and made him something he'll really enjoy :)
I had such fun making these, they're simple, pleasing on the eye and yummy to boot!!