My mom has done a lot for me recently. I've been off work due to a back injury and she has helped me out a lot and I really owe my love of baking and food to her. For as long as I can remember my mom has always been in the kitchen. Not only does she work as the head of one but when she's finished work she comes home and straight away she's in the kitchen elbow deep in flour creating something spectacular. So I thought what better way to thank her than to honor her talent and cook her something delicious? Unfortunately my mom suffers with a severe lactose intolerance so butter, milk, cream, chocolate....all the good stuff, is out of the question!
So I racked my brain and thought about the things a generally see mom eating most and she always has her hand in her tub of mixed nuts and the fruit bowl is never empty so I combined the two and came up with my apricot and walnut delight cookies :)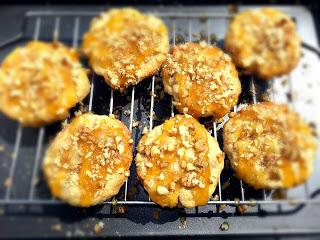 I really had fun with these because I was able to make them rustic, homey, and delicious without having to look exact and precise. I like projects like these because they are for someone I love dearly and who I know will really appreciate the thought and effort I put in.

I packed loads of fruit and nuts into the actual cookie and really piled on the decoration as well. I didn't want anything about this cookie to be subtle. I wanted it to absolutely scream apricots and walnuts and I think it does!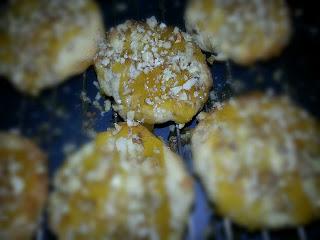 For the decoration I melted a smooth apricot jam and added some icing sugar to make a drizzle/glaze and then chopped up plenty of walnuts to scatter all over the top.

I used a soya substitute for the butter that should of been in the recipe and to be honest it tasted no different and was still gorgeous and rich.

 

Overall I'm so glad I decided to do this not only because they came out so well but because I love to show my folks how much they mean to me any chance I get and I know for my mom this was a perfect way to do that :)