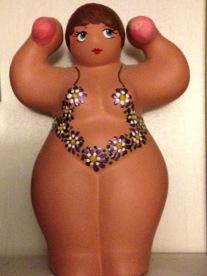 My Best Friend Kelrick got this figurine for me in a little shop in Astoria, Queens. Sadly I don't know the artist.
She took a picture from behind the woman, who was working out on a treadmill, and digitally wrote "Love Handles" across it. Then she posted a second time, saying "I bet she's ordering [burger emojis] for delivery." (No, I'll not be posting the picture here, and I don't think other people should either.  It was taken without permission, I'm not going to add to that.)
Let's start with the unhelpful responses:
Putting Diana Andrews Down
Nope.  The answer to body shaming is not body shaming.  How Diana Andrews looks has nothing to do with it.  What she did would be wrong no matter how she looks.
You Shouldn't Shame Fat People When They Are At The Gym
Nope Nope. You shouldn't shame fat people.  Not if they are working out on a treadmill, not if they are eating pizza they had delivered to the hot tub.  We talked about this already – it's never ok.
That Girl She Was Shaming Wasn't Even That Fat
Nope Nope Nope.  The thing is that if someone is being shamed, stigmatized, bullied etc. for being fat, and we say "they aren't fat" or "they aren't even that fat"  in their defense, what we are also saying is that there is a size at which they would deserve that treatment, and that's just not true.
My suggested response (choose your own profanity adventure)
"Wow, that was extremely (fucked/screwed/jacked/messed) up! You should not have done that.  You need to apologize immediately and face some consequences for your actions."
After people rightly went the hell off on her for her utterly inappropriate Dani Mathers impression, she published the following "apology"
"I am writing to express my sincere apologies for my actions. I realised that I was wrong to make this silly joke. It wasn't my intention to body shame, hurt, or disrespect anyone. Thank you guys for all your messages and continued support."
Wow, if she managed to be this body shaming, hurtful and disrespectful without trying, she's obviously a natural. And let me just ask this – if it HAD been her intention to body shame, hurt, or disrespect anyone, what would she have done differently?  I am so very over these fake ass apologies.
What should happen now?
Here are some ideas that I have for consequences:
Her gym should revoke her membership – obviously people aren't safe with her there.
No other gym should allow her to join for at least 6 months. She needs to learn the joys of working out at home for a while where she can take all the secret pictures she wants of her cats or whatever.
She could be sanctioned by UKBFF  – miss a meet or two. And it would be great if they could come out publicly against fat shaming.
People could unfollow her.  She took a picture without the subject's permission for the express purpose of fatshaming a stranger in front of her 17k+ instagram followers. She fat-shamed the woman, then she doubled down, then she non-apologized.  I'll bet that those 17k people could find a better role model.
If you have other ideas, feel free to leave them in the comments below.
Regardless, let's be crystal clear that she is absolutely wrong.
If you enjoy this blog, consider becoming a member or making a contribution.
Like this blog?  Here's more cool stuff:
Become a Member! For ten bucks a month you can support fat activism and get deals from size positive businesses as a thank you.  Click here for details
Book and Dance Class Sale!  I'm on a journey to complete an IRONMAN triathlon, and I'm having a sale on all my books, DVDs, and digital downloads to help pay for it. You get books and dance classes, I get spandex clothes and bike parts. Everybody wins! If you want, you can check it out here!
Book Me!  I'd love to speak to your organization. You can get more information here or just e-mail me at ragen at danceswithfat dot org!
If you are uncomfortable with my selling things on this site, you are invited to check out this post.