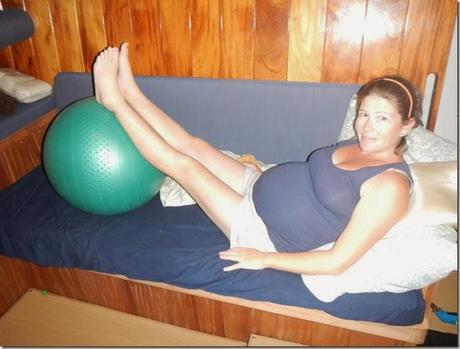 its been tough lately. I'm 34 weeks pregnant and suffering through the heat, and it's only winter! I have feet that look like Fiona's off of shrek, extremely unattractive cankles and a back that feels like it's been through a professional dodge ball match. I try and put my legs up as much as possible but we have two little tigers high on life that don't like either one of us to sit still for more than 4 seconds. Carl is working on little projects everyday. Today he was organizing the laz so we can move tools back there from the forward cabin, yesterday he fixed the davits so the smaller walker bay dingy can be raised and lowered with ease. Its hard for me to keep up with the inside, I just want to sit, drink water and feel sorry for myself. I did that pretty much all day yesterday but I did get bills paid, money moved, tax questions answered and tracking down parts. In doing all of this, today there was play dough smooshed into the floor, glitter bombs everywhere and bits of food I keep finding in odd places. Parenting is a full time gig and me trying to be a part timer is not working out so much.
Today I had a check up at the birthing center. All is well, even though I've put on 5lbs in two weeks, the doc said as long as it's not all fluid I'm ok. Heck lady have you seen my feet???! Looks like I've stuck them in a bee hive. Caught a taxi there for $15 and decided to walk back via the Doctors Hospital to register. I swear on the way that half the people looked at me like they've never seen a pregnant woman before. Registration at the hospital was simple and she was a little shocked that I don't have an address, phone number or a next of kin that has solid contact details. I registered just incase anything went wrong at the birthing center I could easily be transferred there without Carl having to deal with paperwork issues. Made it back to the boat in a sweaty mess to find Carl washing Wags' sheets in the bucket. "you forgot to put a pull up on her before nap" , now I think he has baby brain, he put her in for a nap not me! I had made my appointment during "quiet time" where Wags takes a nap and Pri watches a movie in her room, but none of that helped. Carl was a wreck when I got back. Pri had snuck into the galley and helped herself to bread, peanut butter and nutella and made herself a nice sandwich in her bed and I hear there was a bit of finger painting as well. Nice. I see now why people go cruising during retirement. Having two small kids on a boat is hard work to say the least. I've spent the last 2 hours cleaning up, so much for doctors orders to go home and put my feet up.
Tomorrow we're going to work on making some exterior covers for the large forward windows in the salon. It's getting into the 80s during the day and the sun beating in is heating us up like a green house. We were thinking of heading back out to the Exumas to kill some time before my next appointment in 2 weeks but we may just stay instead. Carl has a lot of projects to get done before the baby and my family arrives and constantly moving to different anchorages knocks me around a bit. I also get a little worried if something should happen we would be stuck 6+ hours from a doctor. All it would take is a trip on the deck to land us in trouble. If only we could scam some Atlantis cards and we could go over there every few days and let the girls run around the kiddie pool. But until that day arrives we are stuck at the marina with barely a breeze, no air conditioning, a hot water heater that desperately needs a new motor and a mommy that feels she has elephantiasis of the belly and feet. All I can say is 6 more weeks.
6 more weeks.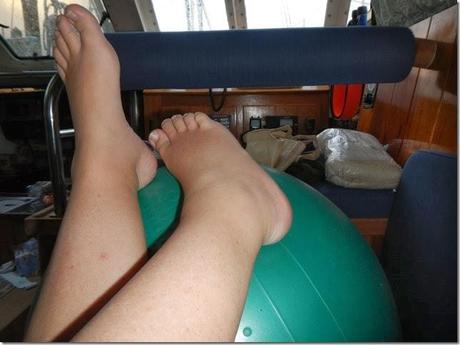 Seriously look at those cankles!!!