I rarely write wishlist posts, which is silly really – I have many wishlists on the go at any one time. There's my ultimate lust list of things I'd LOVE. There's my wedding wishlist safely housed privately on Pinterest. There's my season wishlist of clothes that I'd love to update my look with. It's the latter I'm going to share today.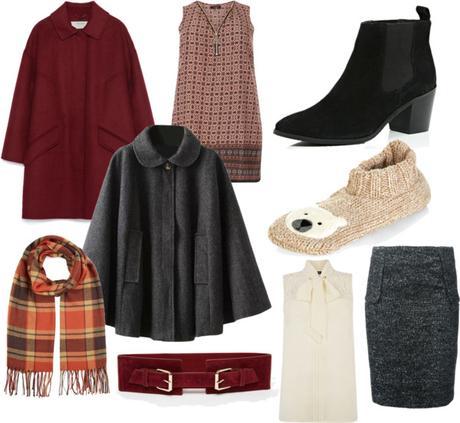 AW15 Inspiration by
ninegrandstudent
featuring;









I've put together an inspiration board, I've pinned countless pins, and now I'm also going to blabber on about it. Realistically I don't have the money to buy myself a whole new wardrobe, so I'm trying this virtual shopping lark. Talking about it might help. It might result in a massive online shopping spree. Only time will tell…
The main thing I'd LOVE over the next few months is a new coat. I've recently gotten rid of a lot of coats due to my weight loss – including my beloved cape. A new cape is very much wanted, the nicest one I'd spied so far is this one, but the one-size-fits-all puts me off. I've just gotten rid of one that's too big, so the last thing I need is another! I've also been eyeing up the Zara coat for months, but I'm not convinced that this cut is the most flattering on curvier figures…
New Look is my go-to for seasonal pieces, and with a gift-card burning a hole in my pocket I'm not sure why I haven't picked up any of these yet… The scarf is gorgeous, a standard-sized one of my lovely Zara one of last year. And the oversized tunic is almost perfect. But the zip?! In past experience these only get cold and uncomfortable so I'm not quite ready to shell out the cash…
And finally, suits. I'm now applying for graduate roles and whilst I do have an interview outfit or two, I'd love a brand new one. This gray tweed skirt is gorgeous, though being Michael Kors is completely out of budget. The Oasis shirt is also lovely, though I have tons of pussy-bow blouses already! Realistically my go-to interview outfit is probably already a tweed skirt and pussy-bow blouse, some things never change season-to-season!
A quick mention goes to the polar bear socks – aren't they adorable!?! A definitely must have…
What are you lusting over for AW15? Are you having a style shake-up or sticking to what you know?