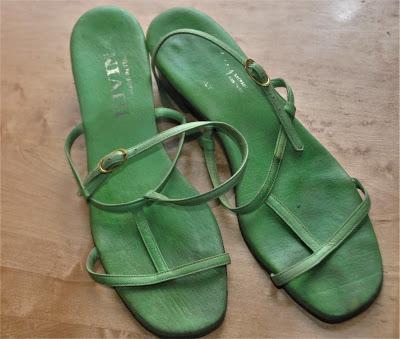 As I sifted through my closet yet again, I came upon a few items I'll never wear but have saved for what can only be called sentimental reasons. A long white dress that I wore when I was pregnant with my first child – and afterwards; it also made an appearance (on someone else) as a Jane Austen costume in a skit a few years ago at Wildacres. There were a pair of green chunky-heeled sandals – which I'll never wear again but am unable to toss as they were my favorite 'nice' shoes of all time for color and comfort.
They accompanied a dress that lies at the bottom of a cedar chest – another favorite and very Sixties. Black voile with pink and green and white flowers splashed over it, above the knee A-line with long flaring sleeves. Maybe Josie can use it for a costume some day
And this got me to musing on my relationship with fashion over the years . . . I don't have strong memories of any garment except my Girl Scout uniform (of which I was quite proud) before 1953 -- sixth grade. I suspect my mother bought it and I wore it, not caring much about clothes. This would change as my friends and I became aware of Fashion.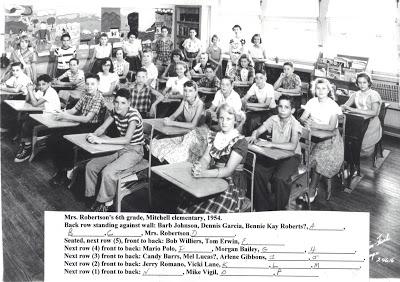 6th grade 
The go-to look was full skirts (three yards of fabric gathered to a waist band) and blouses. Worn with as many heavily starched crinolines as possible. I had a classmate who owned five skirts and wore them all at once, moving a fresh one to the outer layer each day. I suggested to my mother that I might do the same, but she squelched the idea.
There was also a pink and green plaid organdy shirtwaist from Best and Co in NY (my mother loved their catalog.) It was probably an Easter dress, but I remember it because I was wearing it when, waiting outside Morrison's cafeteria with my grandparents, two boys whistled at me – a first.
And I remember fondly a pair of flannel lined blue jeans from the summer after sixth grade. At Camp Junaluska I wore them daily them till a counselor forced me to send them to the laundry to remove the smell of horse
Junior High
Fashion turned to circle skirts (some with poodles) and cinch belts. And little silk scarves tied around your neck. I didn't have a poodle skirt but did have a white feltcircle skirt adorned with a big pink and red felt rose. Also, a somewhat iridescent navy taffeta circle skirt, worn with a see through blouse (over a slip) with elbow length puffed sleeves and dotted with tiny gold stars – tres elegant – or so I thought at the time -- worn with an slightly iridescent navy blue taffeta circle skirt.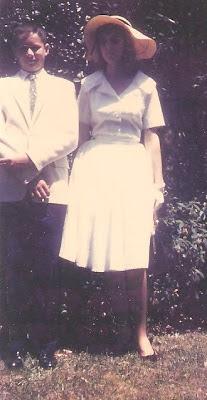 High school
Now Fashion became sadly crucial. Suddenly crinolines disappeared. One of my favorites was this white Easter dress (actually a full skirt and blouse) I wore it (probably against my mother's advice) because it made me feel beautiful to the train station to meet a visiting aunt and got flecks of soot all over the outfit, ruining it forever
This was when my mother (hoping to make me glamorous and, ultimately, marriageable – yes, that was the goal back then -- how Jane Austen!) really took an interest in what I wore, and I was the beneficiary of quite few shopping trips. Notable acquisitions include:
Black suede flats with a toe decoration of dull gold keys that jangled as I walked, worn (to parties) with a spaghetti strapped red plaid dress with another circle skirt.
A luxurious heavy red cashmere sweater that was more like a pet than a garment. I had to take good care of it and I couldn't stop stroking its softness.
A special shopping trip across Tampa Bay to a little boutique in St. Petersburg yielded a skirt ad blouse of beautiful impressionistic autumnal print on cream background and dull yellow flats in buttery leather – with a little rosette of yellow and cream leaves on the toes.
Maas Brothers was, I think, Tampa's largest department store and at certain times of the years they were awash in beautiful clothes. I remember a special selection of woven wool skirts from somewhere like Czechoslovakia in gorgeous colors and I wanted them all. I ended up with a peasanty- type skirt in turquoise wool with purple border pattern, paired with a thin purple wool blouse.
At about the same time I was captivated by a display of what I guess were called cocktail suits – velvet slim skirt and jackets, paired with satin blouses to match the jackets' satin lining. The color combinations were all delightful – claret red velvet with pale pink, black with white, deep blue with light green, and brown with pink are some that I remember. I couldn't make up my mind which I liked best, but it didn't matter – as a seventeen-year-old, I had no need for a cocktail suit. But I still remember (obviously) the lust they inspired.
College '60-'63
My mother put together my college wardrobe for my freshman year at Emory with all the intensity of planning a military campaign. As I recall, there was a lot of black and white with some red. And a classic camel-hair coat that I wish I still had. After I transferred to University of Florida, things got a good bit more casual -- Villager shirtwaists, madras (the kind that really fades) bermudas, a-line skirts -- I lived just a short walk from Donegan's, the local purveyor of college fashion and spent far too much of my time and allowance there.
Wedding '63
I got married and that was another occasion for my mother's strategizing as a suitable trousseau was assembled. (When it was complete, she had her friends come over to view it – another time in a galaxy far away.) The star of the show was my going away outfit -- a Chanel/Jackie Kennedy type suit in cream wool boucle, worn with a periwinkle blue silk blouse and cream colored lizard skin heels.
And then I was spending our money, not my parents' and I learned to sew and made little A-line shifts out of linen that got me through some years of teaching at a prep school where I had to wear a dress, heels, and (argh) pantyhose.
But relief was coming. After our motorcycle tour of Europe where I wore jeans most of the time, I begn teaching at a school with relaxed dress standards – i.e. blue jeans. And that was the beginning of the end. Once we moved to the farm, I was in a place where it truly didn't matter what one wore. And it still doesn't.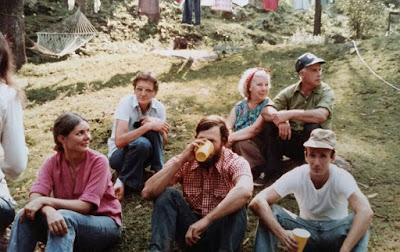 After forty-some years without worrying about Fashion, revisiting the time before that is almost like looking back at someone else's life. Hard to believe that if something hadn't changed, I might have gone on to dress like the lady in the picture below . . . But probably not.