from Creative Resistance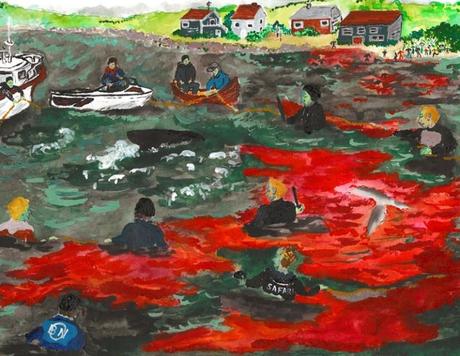 by Marie Mason
Painting of Pilot Whale Slaughter in the Faroe Islands. Read more.
Artist and musician Marie Mason is a loving mother of two and a long-time activist in the environmental and labor movements. In March 2008, she was arrested by federal authorities for charges related to two acts of property destruction that occurred in 1999 and 2000; no one was injured in either of them.
One was on an office at Michigan State University where research into genetically modified organism (GMO) crops was being conducted by agribusiness giant Monsanto. The other attack was damage to commercial logging equipment. She accepted a plea bargain and was sentenced on February 5, 2009 to just under 22 years. She is now serving the longest sentence of any "Green Scare" prisoner.
More information here.
[EF!J Editor's Note: Don't forget, June 11 is International Day of Solidarity with Marie Mason, Eric McDavid, and All Eco-Prisoners. Check out the Never Alone Art Online Exhibition for more prisoner art and to support eco-prisoners.]