Last Friday Mike, Shannon and I packed up the car and headed to CT for a Strong Bonds retreat put on by the Army. To any of my fellow military families out there, if you get the chance to attend one of these, GO! Please! They are great. *Almost* worth missing a whole weekend of working Herself.
Shannon was a champ in the car on the way down, and even though there was a little snafoo with our room key that ended with her and I sitting in the hallway with all of our stuff like total creepers while Mike went to get it fixed. She was a total doll while we got check in, unpacked, cleaned up from the drive and on our way to the first seminar.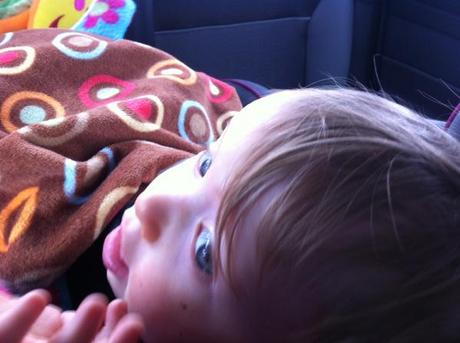 They provided childcare, and the sitters were wonderful, even though it must have been seriously stressful in that room! Shannon was a good girl, only stealing food from a few of her peers! Mike and I learned a lot from a video they showed of Dave Ramsey's Financial Peace University. If you've never seen any of his stuff, check it out. Some great points about credit cards, getting out of debt, and entertaining! I mean, the guy pops a balloon full of money… it doesn't get much better than that! (Well okay, maybe if Willow stops trying to kill me, but the balloon/money thing is a much more likely scenario.)
We had a great dinner, picked up our little girl, and went to sack out for the night. Unfortunately our room was an ice box, so Shannon didn't sleep much. Typical.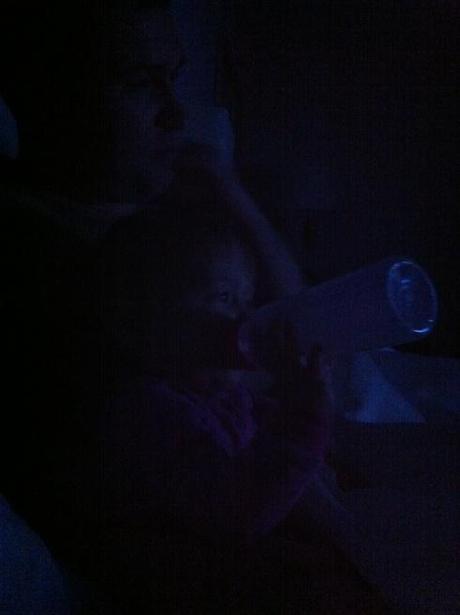 Midnight bottle and Wipeout!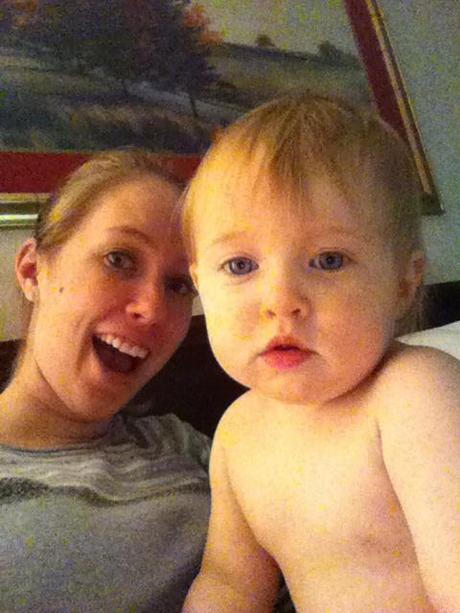 Clearly not amused…
Breakfast was at 0700 the next morning, and delicious! The rest of the day was planned out in 50 minute seminars, each based on a 'habit' from Steven Covey's 7 Habits of Highly Effective Families. We dropped Shannon off at the daycare room and sat down with our workbooks!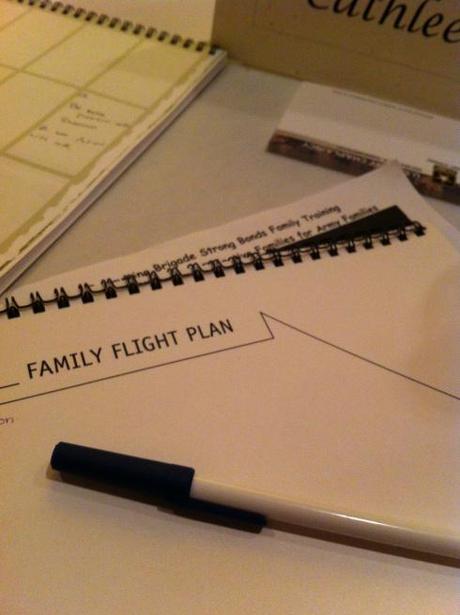 Yes. My 'show name' is Cathleen. 

Mike and I took a lot away from the sessions. We're going to start implementing Sunday night dinners, as best we can anyways. Our schedule doesn't leave a whole lot of room for family time. Mike is often out of the house by 0430 and back just in time to give Shannon dinner and put her to bed while I go to the barn. I get home and we go to sleep. Sunday dinner will be a good way to bring us back together.
We also learned that I am the reactive type, while often I wonder if Mike still has a beating pulse (they call it 'proactive'… I call it obnoxious). However I learned that I have to stop and think before I just explode. He learned that he has to communicate better with me, so that I don't feel the need to blow up at him.
Finally, I really need to learn to prioritize. Big rocks (like cleaning, organizing, cooking dinner, family time) and little rocks (Facebook, Twitter, the Outlander novels -I argued this one-, and tv) can't all fit in the same cup. I need to put my big rocks in first, then put the little rocks in around them.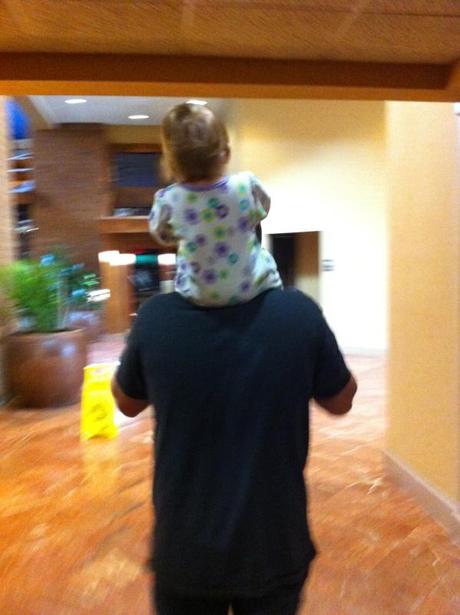 Big rocks, for sure!
   We learned a ton, and got to check on Shannon during each 10 minute break. We finished up around 2 and then were released to have family time. I desperately wanted to bring Shannon to one of the Children's Museums or Aquariums in the area, but they all closed at 4 and she was desperate for a nap, so we put her down and spent some quiet time waiting for her to wake up.
When she did we took her down to the pool for a swim! She loved the warm water, but it was pretty busy so we didn't stay too long.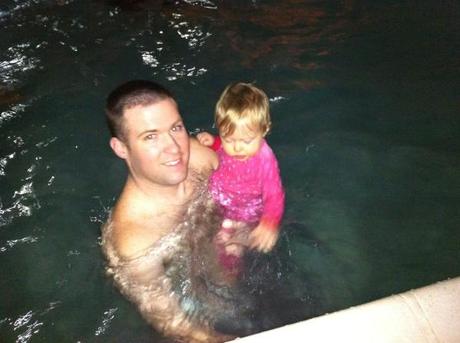 The hotel also had an indoor water park, but we didn't partake, since Shannon was still a little too young and it was packed. It ended up being that we had just enough time to get the chlorine rinsed off and head to dinner. The food the entire weekend was amazing! Shannon happily chowed down on some pasta, bread, and salad and I ate WAY too many pieces of cake. But it was vacation so technically it  doesn't really count.
After dinner it was bedtime for the wee one (who slept much better, even though our room was still FREEZING… we layered her little butt up) after some running around the hotel room.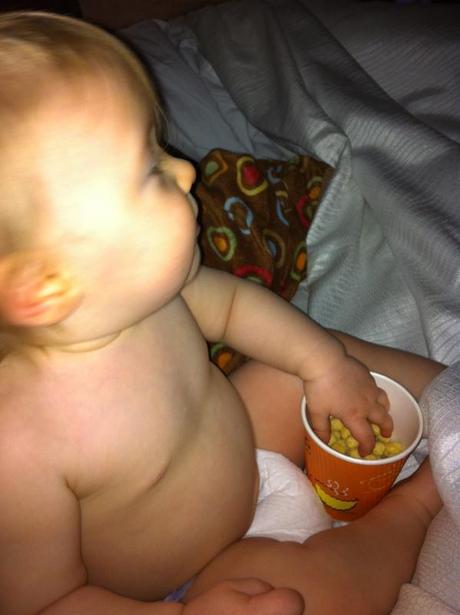 And some Kix.
Breakfast was another 0700 call, so we called it a night fairly early. 

 . Shannon was a little bit over daycare by the third day (I don't blame her. The sitters were WONDERFUL, but it was chaos in there) so we left a little bit early to make our way home. We were given a copy of the book that the Chaplin had based his lesson plans off of, and while I haven't had the chance to open it yet, I'm excited to put the things that we did learn into action.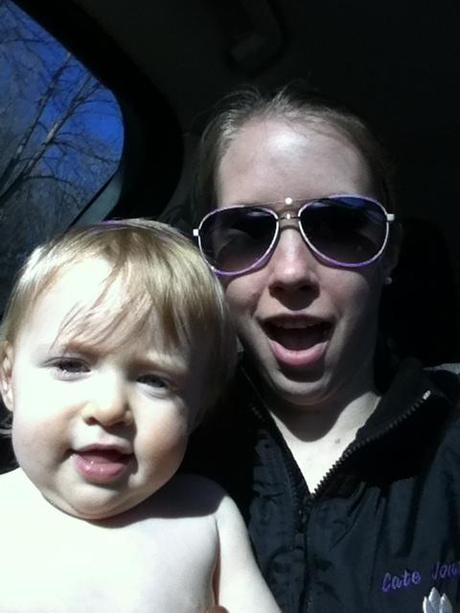 We made a few stops on the way home, so that the wee unit could get out and stretch her legs. I know that she's naked in the above picture… it ended up being REALLY hot in the car, so we were swapping outfits. I don't usually travel with a naked child on my lap. 
It was a great weekend, but I was glad to be home with the canines in our own bed! Shannon was pretty happy to not have to sleep in the bathroom another night!