What are you planning on buying this fall? Here is a sneak peek of the items that I'm coveting. Call it a cheat sheet or a balanced shopping list (lots of high end and low end items to keep the bank account happy). My goal is to find wearable, classic pieces in my closet and turn them into outfits by adding some of the trendier pieces for fall. Hence the assembly required title. I'm ready. Thanks to all the Project Runway episodes I keep watching, I can hear Tim Gunn whispering in my ear, "Make it Work." Daytime, evening, weekend, weekday, workday, it's really about creativity and interpretation.
I love that leather is so hot this fall/winter. Please don't spend money on anything PLEATHER. I mean, why would you do that to yourself? Yes, it is cheaper but there are too many women waltzing around town thinking they look hot in a pleather mini, meanwhile, streetwalker comes to mind!  Although the Gap dress is a bit steep in price, it is a classic (that's called shoppers justification). The poncho with burgundy tights and black wedge booties make this slightly more edgy, rough. When you pair the dress with a red blazer, adorable polka dot tights and suede pumps, it's more of a classic (pretty sure you can get away with that outfit if you took a time machine to any decade).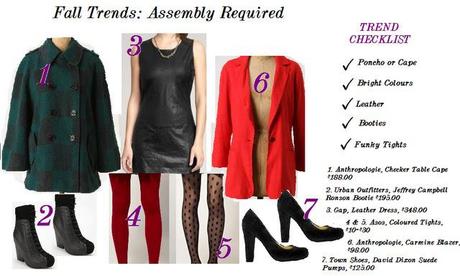 Work wear should never be boring. There are far too many women in stiff suits - bland tops and bottoms. It's time to add some fun to the outfits. Why not put together a bright coloured tank top with a leopard print skirt and throw on a black blazer - add some fun shoes and you're on your way from the boardroom to the bedroom ... ahem... bar.
PS: the purple Jeffrey Campbell booties are the MOST coveted item on my list. I think I just have to have a pair. Holt Renfrew, here I come...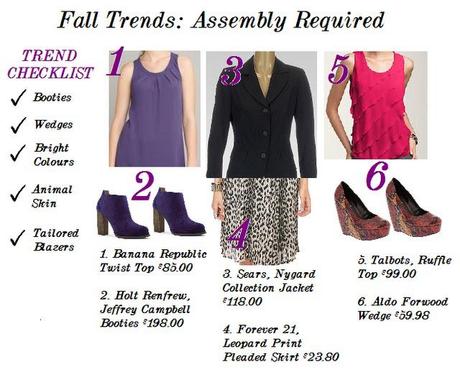 I'm the girl who'd love to wear a tuxedo to just about anything. There is something so incredibly romantic and feminine about a woman wearing cigarette pants and a tuxedo jacket. I think I like tuxedo's less on men (black suits are better!). Taking something masculine and adding feminine elements really appeals to me (in fact, it is one of my fave aesthetics). The soft & hard together (does that sound dirty? kinda). I'm glad the tuxedo is back in style. The knit J. Crew tie is a fun touch. Imagine using that as a belt - why not!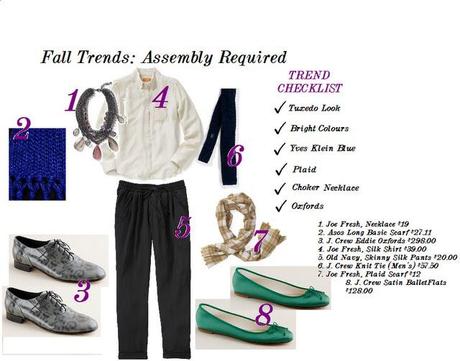 If you want the authority on trends, check this out and see what you take away from the list. Have a fun time shopping! I have to hide all the bills so hungry husband doesn't get too worked up. Umm, well, fingers crossed that he misses this post. ;)
Enjoy!Foodie Wife