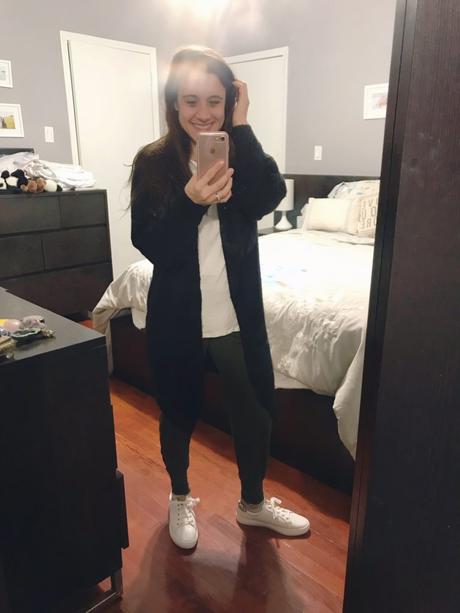 Old Navy cream long sleeved tee - Aerie foldover joggers - H&M Long Black Cardigan - H&M White Sneakers w/ Snake Trim
As promised on Instagram, here is my fall mini try-on of recent items I purchased online from various retailers. Most of these items are laid back, comfortable, cozy, and things I can run around in with the kiddos. As a stay at home working mama, I don't really need to be dressed up every day (and to be honest that would be uncomfortable with my current lifestyle of walking the kids to school and playing on the floor with the babe), but I also don't want to look like a hot mess every day or totally live in activewear. Once I'm finished with my workout for the day, I like to put on "real clothes." So I have some joggers, sweaters, sneaks and more linked here today.
For full disclosure, I do receive a teeny tiny commission if you use my shopping links. If you buy in-store or from a different link, I don't. So if you decide to shop my links, know that I TRULY appreciate it! It takes a lot of time to put these posts and try-ons together, so THANK YOU!
Alright, the first outfit is a cream long-sleeve tee from Old Navy, which was super comfortable, stretchy, and long enough to cover the booty. I paired them with these army green Aerie joggers which feel like workout pants, but baggier. The high waist is made to fold down and they are tapered at the bottom. The long black cardigan is from H&M and I have been LIVING in it lately. It lacks pockets, but it's super comfortable and soft. Finished the look with these white pleather H&M sneaks with faux snake skin trim and gold color detail. They gave me a pair with bum laces, so I need to return or get fixed, but they fit really well, and I'm loving them!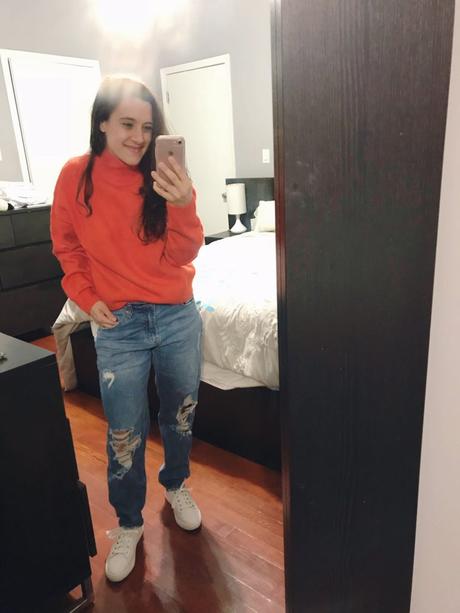 H&M Orange Mock Sweater - Target Wild Fable Mom Jeans - H&M White Sneakers
LOVE the bold, vibrant color of this H&M knit sweater! It's perfect shade for this time of year (sort of a bright reddish-orange) and warm enough to wear into the winter. I love that it's on the shorter side but not cropped, and there is still enough material that you can tuck it in. I paired it with these Mom Jeans I had from Target, and think it could go well with any type of boyfriend jean for a casual look with sneakers. You could also dress it up with a skinnier jean and ankle booties. I am loving these from Target.
H&M Wonder Woman Sweatshirt - Target Mom Jeans - H&M White Sneakers
My boys are big superhero fans around here, so I thought this Wonder Woman sweatshirt would be fun to wear around them. I love the contrast of the strong bold superhero with the soft pink sweatshirt for a strong feminine look. #girlpower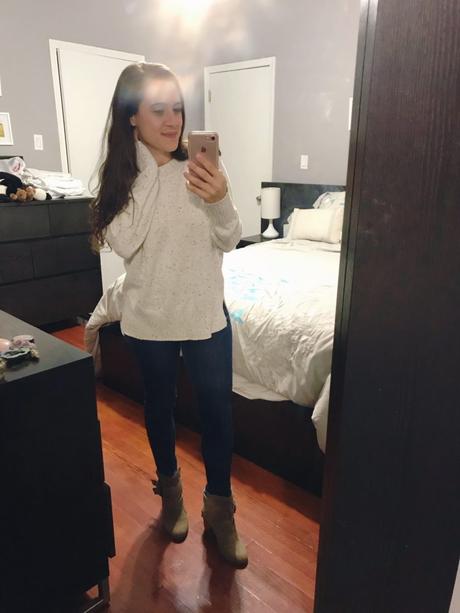 Old Navy Oatmeal Sweater
- Rag & Bone Jeans (old) similar here on sale- Target Booties (also old)
This Old Navy rib-knit trim crew neck oatmeal sweater was my absolute favorite find in my entire fall online shopping spree! It is the most comfortable and also very versatile. I generally steer clear of this type of shade (and usually go for either super bold or black on black on black haha), but was inspired by one of my favorite life & style bloggers, Lauren McBride, (if you're not following her already, you need to) to get out of my comfort zone and try some cream/ivory based colors, and I'm super happy I did!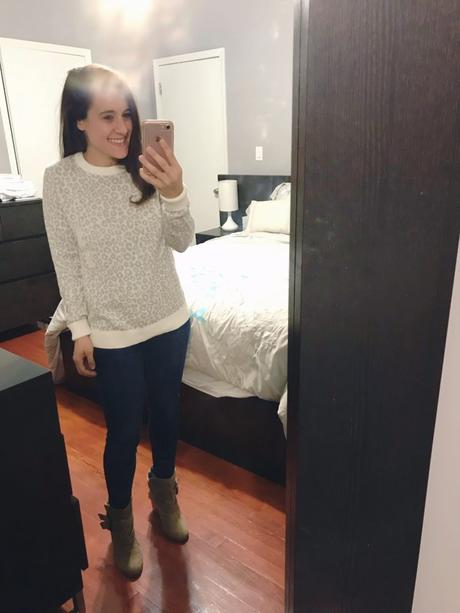 Target Leopard Sweater - Rag & Bone Jeans - Target Booties
While shopping at Target, I originally saw THIS leopard print sweater and loved it, but they didn't have my size. So my eyes next went to the one I'm wearing above, again out of my typical comfort zone. I'm still thinking about snagging the other one online as well though, because can you really ever have too many animal prints? These are both on the thinner side and perfect for fall before it gets too cold.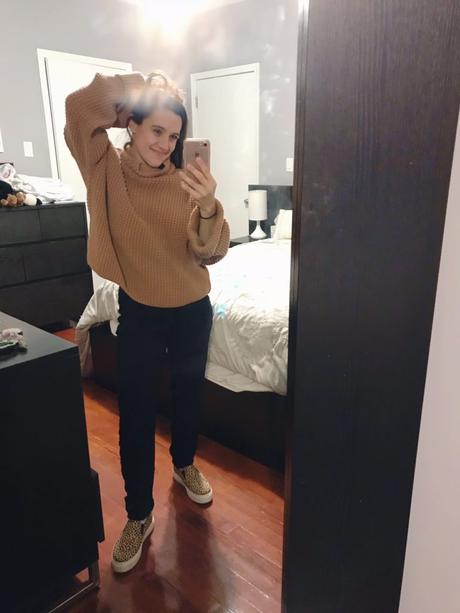 Free People Chunky Knit Sweater (old) - similar one here - H&M Black Jogger Pant - Cheetah Slip On Sneakers
Before you get TOO excited, this Free People sweater is from a couple seasons ago. I know, I know. So annoying. However, I DID find this brand new alternative that is VERY similar and I think you will love it as well. I love how it pairs with these elastic joggers from H&M which are so incredibly soft, comfy, and affordable. Lastly, these platform cheetah sneaks are so fricken cute, but if you plan to order, I would size DOWN, because there are too big for me in my regular size.
Hot Topic Skull Tank (old) - similar here - H&M Black Jogger Pant - H&M White Sneaks - Steve Madden Crossbody Bag (old) - MAC Dark Side Lip
Lastly, this wasn't part of my try on, but I wore it yesterday, and since I'm wearing so many of the same items, I decided to throw it in here for this post since it's so close to Halloween. Topped off with a MAC Dark Side Lip to complete the look.
Let me know which look is your FAV and which items you are loving for fall!
We are getting excited for Halloween this week, and can't wait to dress up and share our family costume! What are you (or your littles) being this year?
Only 10 workouts left in my 100 day program, and our new Challenge Group will be starting up soon in November! I am looking forward to starting a new program in a couple weeks. Let me know if you're interested in trying it out and jumping in with me!
Make it a great week everyone!
XO,
Gina