I don't like change – if I find something that works, I stick with it. This applies to my wardrobe, beauty routine and life in general.
For a few years now I have been wearing
OPI Russian Navy
all winter. No other color has come close to being as cool as Russian Navy. In fact, I won't even try another winter nail color. Russian Navy is my baby.
When summer rolls around I start wearing Essie Peach Daiquiri. Occasionally I will throw in a few other bright pink colors for a change, but Peach Daiquiri is standard.
Fall and Spring have always been an experiment in weird nail colors. As I have stated in other posts, my skin color could be classified as 'pale' or 'ghostly white' so colors like Sand, Gray, Putty and certain Reds just make me look strange. While its only a nail color….I know what strange looks like – and it doesn't match my cocktail rings.
I kept seeing ad's for Essie's new collection this Fall and 'Carry On' looked like it could be a winner. I ordered some online (feeding the Amazon.com addiction for the week) and slapped on 2 coats when it arrived. The verdict is…..I FOUND MY NEW FALL COLOR!!!
I would describe is as a perfect dark purple with a hint of chocolate. Looks like I will be adding this to my other two favorite nail colors that I buy in bulk……just in case they every get discontinued
J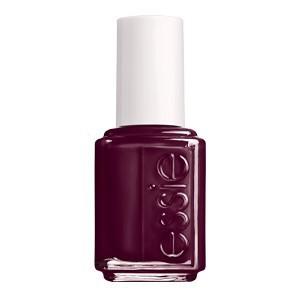 Essie, Carry On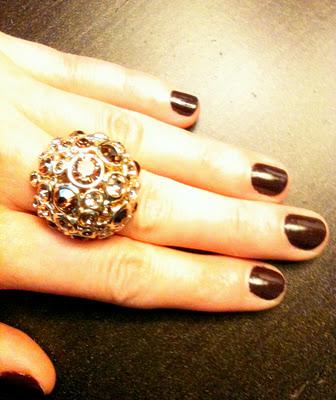 Nails: Essie, Carry On
Cocktail Ring: Talbots