It's hard for many people to be thinking about the winter as they're still mourning over the loss of summer.  As the leaves begin to fall from the trees it's really time to begin thinking about the colder months so that you can be prepare for huge savings through the winter months.  Taking a few steps now like cleaning gutters, contacting a spray foam insulation company, and sealing drafts will leave you more money for next year's summer vacation.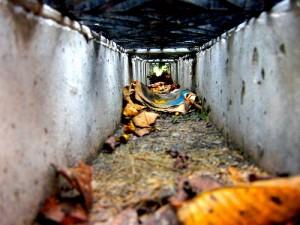 CC:Image Source
Gut Your Gutters
As the leaves fall from the trees around your home, guess where they're headed?  That's right, straight to your gutters.  It's essential to remove leaves and other debris from your gutters before winter strikes so that melting snow properly drains.  Start by cleaning the gutters with your hand or scraper and don't forget to follow with your hose.  As you hose your gutters you need to look for leaks and pipes that are not properly aligned.  Lastly, double check and make sure that the water flowing out of your gutters is going away from your house and not towards your home's foundation.
Fire Up the Furnace
Don't wait until the temperatures drop below freezing to see if your furnace is fired up and ready to go.  It's suggested to turn your furnace on now to make sure that it's working properly and to have your annual tune up done on it.  The furnace repairman should advise you to change your filters once a month through the winter to keep it working properly.  The smallest amount of dirt in a filter will reduce efficiency and cause your bill to go up.  Investing in filters now is a great way to be prepared throughout the winter months.
Block Bursts of Cold Air
Do a walk through of your home and check for drafts.  Common drafty areas include windows and doorways.  These areas can be easily fixed with sealing the areas with caulk.  It's also suggested to check your foundation for cracks.  Filling these cracks will help prevent water leaks that might occur during periods of melting snow.
Insulate It
Adding insulation to areas that are prone to bringing in the cold, like attics, is a great way to keep the heat you're paying for inside.  Contact a spray foam insulation company to make sure you have the minimum of 12 inches of insulation in your attic and other areas of your home will keep you toasty warm.  You can also add insulation to stop drafts and other areas of the home that tend to bring in cold air.
By checking up on these things now you will ensure that you will have a warm home through the cold winter.  In many cases taking care of any issues now will save you money because you're taking care of them before the winter.  If you find that your furnace is broken in the dead of January, you're likely to pay a premium to have it taken care of because it will be an emergency.
Find local service contractor in BidsByPros.com and connect today!
Stop searching! Start selecting!
Author Bio Box:

James Whitner is an established writer who has been a contributor to many popular websites all over the internet. His dabbles in home improvement projects in his spare time.
Shared By Don Zilleri
Bids By Pros moderator

Don Zilleri
Don Zilleri is an author and researcher. He is specialized in business marketing, development and is a small business owner. He learns as he writes by researching and interviewing experts and professionals in many categories and topics. Join him in Facebook and become part of his pro network in LinkedIn All Don Zilleri's article's authored exclusively for BidsByPros.com All rights reserved. If sharing, credit Bids By Pros in article source.