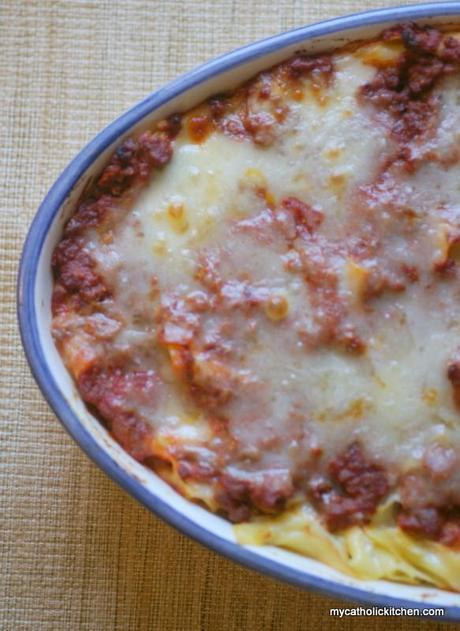 This recipe is so good! I know, I know I always say that about all my recipes, but this one is so different! This is like lasagna except not so labor intensive. Why you ask? Well I use those little egg noodles instead of the lasagna noodles.
Most of you who know me know that I am not a fan of cottage cheese. I think it is a texture thing. I processed it in the food processor and it had more of a consistency of  Ricotta. The best thing about this recipe is that you can double it and freeze one for later.
Stares off into space dreamily……
You know, in a couple of months when you are stretched on time and need something hearty to feed the masses.
Better yet, if you have relatives visiting and need to feed an army you could freeze a few batches of this stuff and no one would be the wiser. When you need it just pull it from the freezer a day or two before you want to bake it. Some garlic bread and salad would round this meal out. What more could you ask for?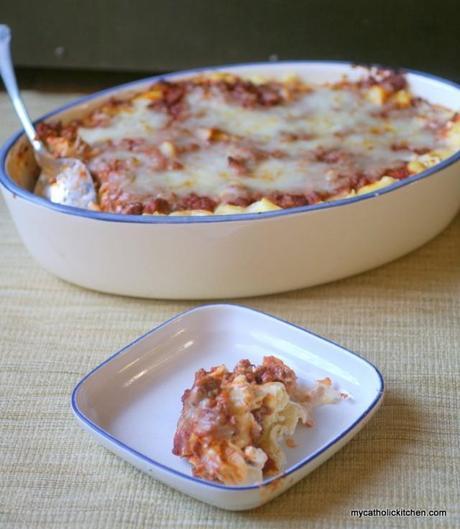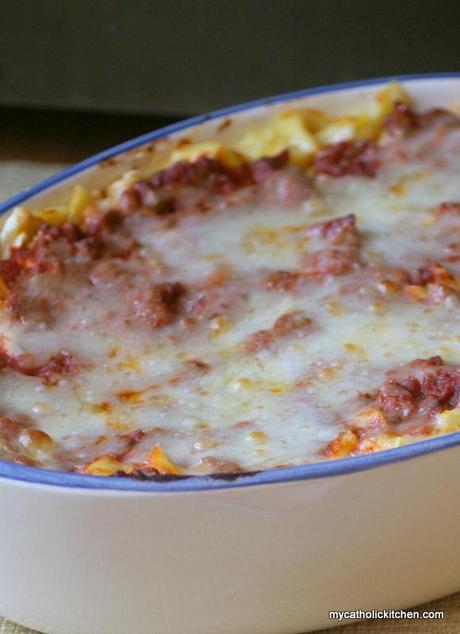 Print Recipe
Fake Lasagna
Ingredients:
1-1/4 pound Ground beef
1 15-ounce can Tomato Sauce
8 ounces Egg Noodles
1/2 cup Sour Cream
1-1/4 cup Cottage Cheese
1 small sweet onion peeled
1 cup Grated Sharp Cheddar Cheese
Directions:
Preheat oven to 350 degrees.
Brown ground beef in a large skillet. Drain fat and add tomato sauce and stir everything together.
Cook egg noodles according to package directions. Drain and set aside.
In food processor, combine sour cream,cottage cheese and onions. Process until smooth Add to noodles and stir.
To assemble, add half of the noodles to a buttered baking dish. Top with half the meat mixture, then sprinkle on half the grated cheddar. Repeat with noodles, meat, then a final layer of cheese. Bake for 20 minutes, or until all cheese is melted.
Peace be with you,
Veronica
Google+

Veronica Gantley (My Catholic Kitchen)