I love nail paints. And my dream is to get nail paints of every brand in all colors. I know this dream is not going to be true but I still wait for that day. :)
This is the first time I purchased nail enamels from Faces Cosmetics. I got these two little beauties from StyleCraze. I was looking something new to try first I thought of Orly but then my final decision was Faces.Ofcourse! They were on discount, so picked Bronze 12 and Sparkles 13.
Description of Faces Nail Enamel - 
>
 Faces Nail Enamel is a long lasting and chip resistant nail polish.

> It comes in a high shine finish formula that applies smoothly and lasts longer.

> Trendy colors brighten up your mood and keep up with the fashion mania.

>
 Flat brush delivers shiny smooth color for a streak free professional finish.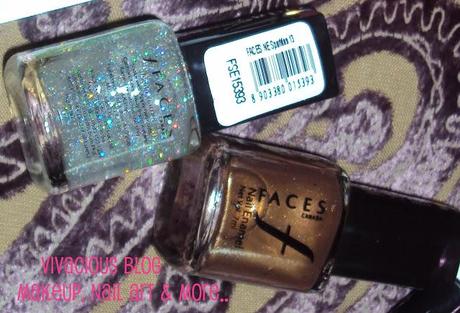 Price :
Rs. 99/-  for 7ml but I got it in Rs. 84/-
Available Shades:


>
 Aureolin
> Alomic Orange
> All That Glitters
> Bronze
> Black Beauty
> Forest Green
> Go Green
> Get Mauveing
> Green Surprise
> Pink Flamenco
> Pearl Maya
> Precious Peach
> Purple Rain
> Persimmon
> Pearl Yellow
> Sparkles
> Shanghai Shimmer
> Teal
> Ultramarine
> White o  White
On first coat it looks like this -->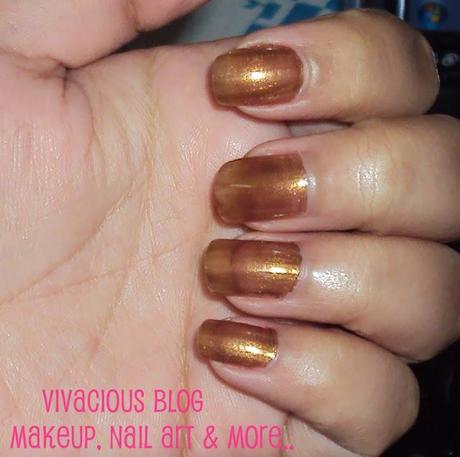 With second coat it gives the exact color of bronze.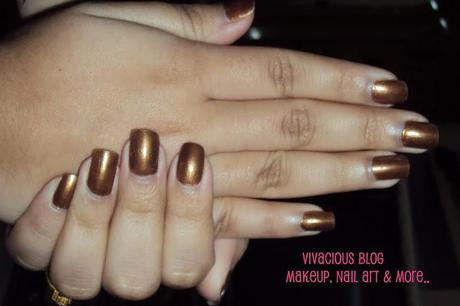 Pros :
The tiny bottle is cute and sturdy.
Brush quality is good.
Can be easily carried anywhere, handy.
Two coats dries completely within 5-10 minutes (I'm talking here both hands).
Available in a variety of bright and shimmery shades.
Staying power is good (for 5 days).
Cons :
It's a good nail paint to try out and after discount it was a must buy for me.
Rating :
4.5 / 5
I will try its other bright shades too. Atomic orange and Precious peach is on my next list. :)
xoxo,