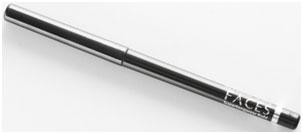 FACES Cosmetics
, a globally acclaimed makeup, skincare and lifestyle accessories brand from Canada, is all set to introduce Superlongwear Kohl. Superlongwear kohl is a super lasting soft eyeliner that lasts all day! Smudgeproof, waterproof, eyeliner that doubles up as a kajal too! High coverage with an intense color payoff. Encased in a plastic casing which provides the flexibility of retracting the lead with a double way twist mechanism thiskohl will be the answer to all the prayers for the perfect kohl! Priced competitively at Rs 449, this product will be available at Faces counters. [
beautynewsindia
]
About Faces:
FACES has already been making a splash across most major cities in India, with nineteen signature stores and eight exclusive mall kiosks in operation. In fact the bang-on-trend, FACES color cosmetics range is also available in over 400 SIS touch points where consumers can experience the product in an aided environment. And over 7000 POINT OF SALES grooming must-haves from FACES, the range of personal care accessories.
The brand with a more than 38 year old heritage and expertise in the Color cosmetics business globally, has aggressively expanded the width of its product offering in India to over 1200 stunning products. 
In This Post ---
 Brand: FacesProduct: Black Kohl PencilPrice: Rs.449Available at : Faces Counters Your Thoughts: To Buy or Not To Buy?=====================================================
Disclaimer:
For any queries, PR information, website review, store visit and events - please mail me at
[email protected]
. Read about Shopping, Style and Us and to know more, please read my
Disclosure Policy
.
Jiya (Shoppingaholic)