I have always had normal skin and never been prone to break outs. I tried Clinique's 3 Step Skin Care system for skin type 2 (normal skin) in fall of 2008 and it really did a number on my skin. I became extremely sensitive and red in my cheeks and forehead. I became extremely dry, which caused me to begin breaking out.
Fun Fact That's Not So Fun:
Did you know that overly drying your skin with products, especially if you're already  prone to breakouts can cause more breakouts? Your skin suddenly finds itself too dry and is triggered to send more oil to hydrate the area, thinking it's now too dry. NEVER EVER skip moisturizer, just find one that's oil free and one for sensitive skin might be less harsh. Anyway, I've tried many MANY different face washes from all different brands, from drug stores to the high end, expensive department store brands. The one I've found that keeps my skin clean and breakout free is
Clean & Clear Foaming Facial Cleanser for Sensitive Skin
. It's oil free and in one product removes dirt, oil, and make up! My husband and I both use this product, and just like the Philosophy Oxygen Peel I reviewed earlier, it's done wonders for us both. My redness has been greatly reduced, my skin is more hydrated, and I am break out free. My husband's oil is controlled, his sensitivity is managed, and he is break out free as well. It's sold in Walmart, Target, drug stores, and grocery stores so it's certainly easy to find. Walmart sells an 8 fl oz bottle for $3.67 and a 2 pack for $7.34. Go out & give it a try, you won't regret it!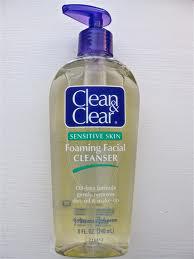 Stay beautiful ... with clean & clear skin :)