This show is my guilty pleasure! I absolutely love it. I even got my husband into it to the point he reminds me at like 9:45 to get ready because it's coming on! So much has happened this season, especially in last weeks episode. Jenelle agreed to go to rehab, Leah told Corey she cheated 2 weeks before their wedding and files for divorce, Chelsea finally took her practice GED test, and Kailyn and Jo hooked up!! Absolute craziness and apparently tonight's episode just brings on more drama!!
Now what might this have to do with beauty you ask? Well, has anyone else noticed a "I MUST GO BLONDE" trend on this show. These girls really looked natural on their 16 & Pregnant episodes and the first season of Teen Mom 2. This season though you've seen them progressively get more & more made up and then now they all went blonde! My first question as a young, new mom is how in the hell do they afford the things they have/do, and now to maintain blonde hair on brunette girls! I've tried it before. It's like every six weeks if I'm lucky and going so light from so dark sort of forces you to get it done professionally. (NOT CHEAP!) I will say their make-up looks beautiful and I am happy to see these girls who had to grow up and care for someone else entirely so young be taking care of themselves and keeping themselves a priority too because you're no good to anyone else if you don't take care of yourself.
Back to this going blonde business though. Kailyn is the only girl who has really truly remained natural looking and I think she's cute the way she is. Chelsea is obviously into cosmetology since she is taking her GED to be able to go to beauty school so her make-up and constant hair color changes are definitely understandable. I think the blonde does look pretty on her, but she pulls off brunette too. I would just personally warm up the blonde a little, or at least add some low lights to break up the color. Leah is naturally pretty light brown to a dirty blonde so enhancing the blonde she has can bring out her features. However, I don't think that platinum blonde really does much for her and actually washes her out. She's a cute girl and a warmer blonde with caramel highlights would really bring out her eyes and skin tone. Be Barbie in your own way sweetie! It'll be much more flattering! :) Lastly, Jenelle is a brunette. This blonde she has going on DOES NOT WORK! It looks old, like when you have highlights you cover when you dye your hair dark again and after a whole bunch of washes, it starts to show through again. It looks really brassy and I kind of wonder if she did it herself. It also is like a confusing commitment. It's not a true "I dyed my hair blonde" blonde, but it's not just some highlights. I think she needs to re-dye it a warm chocolate and through in some light warm brown highlights. It will do a lot more for her and especially make her stand out on the show since everyone else went blonde.
Now these are just my opinions and I am not a licensed cosmetologist, just a hair color enthusiast! I've had my a hair a variety of shades for the last 10 years and I've tried many different looks so I can at least say from experience what works and what doesn't. Let me know your opinions on these girls' looks!!
MTV's Teen Mom 2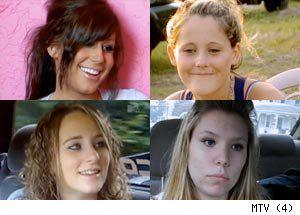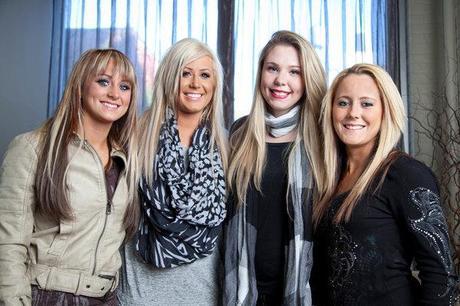 Images from google.com/images