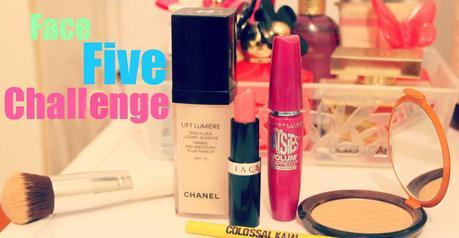 I recently got tagged to do this challenge by the sweet sweet

Charlotte

of

Makeup By Candlelight

.

The challenge requires me to do a full face of makeup using only 5 products.

The rules of this

tag/challenge

are :
Use only 5 products to create a complete makeup look
Each different product counts as 1 product. Multipurpose products count as 1 product, such as Benetint, Bombshell the One Stick, Nars Multipurpose Stick. 
No palettes are allowed. No trios, quads or multi-shade palettes.
Tag Five others to complete the Face Five Challenge
So lets get on with it....
I am a big big sucker for concealer. Initially I thought of using my
Maybelline Fit Me Concealer
all over my face instead of foundation. But as I read
Charlotte's post
, I couldn't help agreeing with the fact that foundation should be included. As I have fairly
noticeable blemishes
from
acne+sun damage
, I decided to use a
high coverage
foundation -
Chanel Lift Lumiere
This foundation is excellent for a great coverage without the cakey-ness and heaviness.
For eyes, I used
Colossal Kajal by Maybelline
for the first time in my life. Infact, this is the first time I actually wore
ANY
kajal on my eyes (especially on my waterline). I am very proud of the result. Ecstatic. :P
Also on eyes, I used
Maybelline's Falsies Volume Express Mascara
.
Moving on to my lips, as I did kind of a smokey-eye here, I went for a nude lip. So I wore
Faces' Lipstick in Candyfloss
, which is my favorite
pinky-nude lip colour
...like ever!I cheated a bit with my
Body Shop Honey Bronze Matte Powder
in
Fair Matte
, as I used it to warm up my face as well as on my
eyelids
as a
makeshift eyeshadow
.
I finished my look by using the
lipstick
I was wearing on my cheeks
as a blush
(ya ya!!) ...and
wallah
...all done!!
This tag was so much fun. It actually got me thinking about how many products do I actually use when I am getting ready normally...I was totally lost. Next time I get ready, I'll remember to count.
You are being tagged....!
Elizabeth Breygel from Beauty Angel
Niesha from Indian Beauty Forever
Aditi from Budget Belleza
Gowthami from Beauty Frontline
Aditi from Chicorita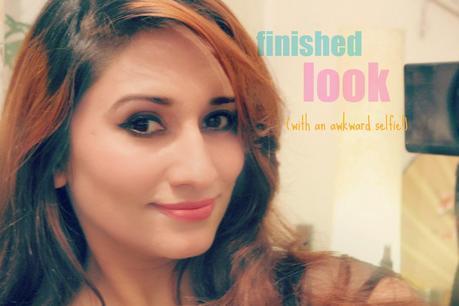 PS - Planning to watch Oculus this weekend. Has any of you seen it yet? I am not sure whether I will be able to sit through like "a lady" while watching a horror flick in a dark room with 100+ strangers. I am sure I am going to embarrass Mr.K. I mean I LOVE horror flicks, but in safe surroundings of my living room, and with an option of a remote in my hand. Anyhoos...his fault...he booked the tickets!Have a great weekend people!!.. 
xoxo