Firoz shah was Muhammad's first cousin, the son of Ghiyasuddin's younger brother Rajab. He was trained in the art of government by his Ghiyasuddin Tugluq and Muhhammad bin Tugluq. The sudden death of Muhhammad bin Tugluq pressed the nobles to urge Firoz to ascend the throne and save the army from destruction. Firoz after some hesitation agreed to accept the thrown.
   
     The task before Firoz was indeed a difficult one.He was weak, vacillating and incapable of sustained efforts, and lacked the essential qualities of a good general. He made no serious attempts to recover the lost provinces of the Empire.
      But Firoz has a good record of some benevolent measures to his credit, and his long reign of about thirty-seven years was a period of comparative prosperity and happiness for the people.
     The construction of the canals contributed greatly towards the prosperity of agriculture. He has great passion of building new cities and renaming the old ones.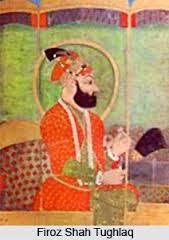 References:
1. Basic facts on history- Manoj publications.
2.Contemporary India- 10th CBSE book