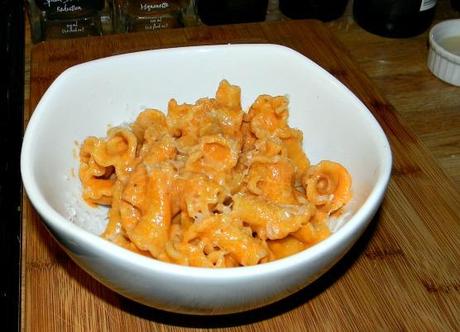 This is why I love to take the leftovers of one dish (especially a sauce or creamed soup) and use it in another.
For one thing, the cooking has been done for you. All you are doing is adding one or two new ingredients and boiling some pasta.
In this instance I had enough
of this soup
leftover to make a vodka sauce. Yummy!
The two ingredients I added was the vodka and a smidgen more of cream. Oh, I also added Parmesan cheese.
I would make this soup again just to make this dish, it was that good. As a matter of fact, this soup would make a good start to a wonderful Chicken Cacciatore. Imagine this, add a bag of frozen peppers and onions to a cut up chicken that has been browned in a pan with olive oil and then the soup. Cover and bake in a 350° oven for 45 minutes, boil some pasta or make mashed potatoes and dinner is served. YUM again!
I feel like I am gypping you of a recipe so I will link back to the soup so you can print that out first.
Two other ways to easily make this dish......
1. Buy a really good tomato bisque. You know, the kind that comes in a box and seems to have a good nutritional profile. While not as good because you didn't add all the goodies you would like, but not a bad way to start. I recommend this brand and right now you can get a
coupon
.
2. Make the Penne Alla Vecchia Bettola that Ina made on her show. It is just as good.
Just remember that unless you make a double batch you won't have any leftovers and the whole idea about my Extreme Budget was to get as much out of a recipe as you can.
Campanelle Alla Vecchia Bettola
makes 4-5 servings
1/4 cup good olive oil
1 medium Spanish onion, chopped
3 cloves of garlic, diced
1/2 teaspoon crushed red pepper flakes
1 1/2 teaspoons dried oregano
1 cup vodka
2 (28-ounce) cans peeled plum tomatoes
Kosher salt
Freshly ground black pepper
3/4 pound penne pasta
4 tablespoons fresh oregano
3/4 to 1 cup heavy cream
Grated Parmesan cheese
1. Preheat oven to 375 degrees F. 2. Heat the olive oil in a large oven proof saute pan over medium heat, add the onions and garlic and cook for about 5 minutes until translucent. Add the red pepper flakes and dried oregano and cook for 1 minute more. Add the vodka and continue cooking until the mixture is reduced by half.
3. Meanwhile, drain the tomatoes through a sieve and crush them into the pan with your hands. Add 2 teaspoons salt and a pinch of black pepper. Cover the pan with a tight fitting lid and place it in the oven for 1 1/2 hours. Remove the pan from the oven and let cool for 15 minutes.
4. Meanwhile, bring a large pot of salted water to a boil and cook the pasta al dente. Drain and set aside.
Place the tomato mixture in a blender and puree in batches until the sauce is a smooth consistency. Return to the pan.
5. Reheat the sauce, add 2 tablespoons fresh oregano and enough heavy cream to make the sauce a creamy consistency. Add salt and pepper, to taste, and simmer for 10 minutes. Toss the pasta into the sauce and cook for 2 minutes more. Stir in 1/2 cup Parmesan. Serve with an additional sprinkle of Parmesan and a sprinkle of fresh oregano on each plate.
Cost for my version: $ .85
Running total for 27 days: $93.85
The next meal makes a full month of budget meals. My goal was to pay for no more than $100 a month on food for 48 servings. Anything in my pantry before I started this challenge was free.