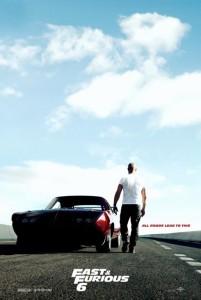 The new Fast & Furious 6 trailer that debuted at the Super Bowl was only the icing on the cake. Car enthusiasts / action fans get your engine's started because the whole crew is back for this wicked sequel. Fans were shocked to see Michelle Rodriguez back in the fold after it seemed like we've heard the last of here character. The film also has returring stars Vin Diesel, Paul Walker, Dwayne Johnson of course as well as Jordana Brewster, Ludacris, Tyrese Gibson, Joe Taslim, and Luke Evans rounding out the rest of the cast. 
I'm probably not the right audience for this film seeing how I've never seen the fifth movie in the franchise and I've only seen the first and second. Not exactly the biggest fan of Vin Diesel either especially since at one point he thought he was too good for this franchise. I'll be trying to watch the fifth movie in the next few days and I'll leave my expectations at the door. From the things I've heard, I should be highly entertained.
Check out the new trailer below:
Here's the official synopsis for Fast & Furious 6:
Since Dom (Diesel) and Brian's (Walker) Rio heist toppled a kingpin's empire and left their crew with $100 million, our heroes have scattered across the globe.  But their inability to return home and living forever on the lam have left their lives incomplete.

Meanwhile, Hobbs (Johnson) has been tracking an organization of lethally skilled mercenary drivers across 12 countries, whose mastermind (Evans) is aided by a ruthless second-in-command revealed to be the love Dom thought was dead, Letty (Rodriguez).  The only way to stop the criminal outfit is to outmatch them at street level, so Hobbs asks Dom to assemble his elite team in London.  Payment?  Full pardons for all of them so they can return home and make their families whole again.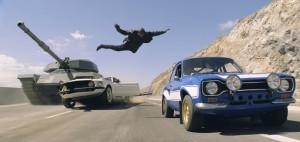 Fast & Furious 6 opens May 24th.