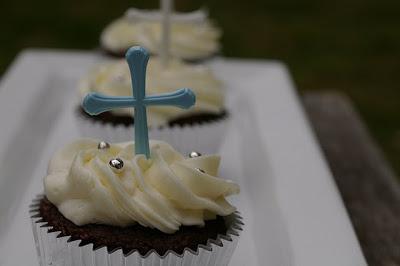 Today is the feast of the Exaltation of the Holy Cross.
According to American Catholic, early in the fourth century St. Helena, mother of the Roman Emperor Constantine, went to Jerusalem in search of the holy places of Christ's life. She razed the Temple of Aphrodite, which tradition held was built over the Savior's tomb, and her son built the Basilica of the Holy Sepulcher over the tomb. During the excavation, workers found three crosses. It is belived one of them was the cross Jesus was crusified on.
The cross is today the universal image of Christian belief. Countless generations of artists have turned it into a thing of beauty to be carried in procession or worn as jewelry. Today, I will pay homage by using food to show it in all its glory.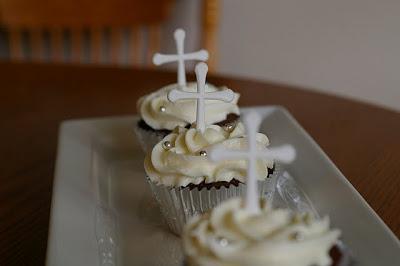 Chocolate Cupcakes with White Icing
3/4 cup unsweetened cocoa
3/4 cup all-purpose flour
1/2 teaspoon baking powder
1/2 cup unsalted butter, softened
3 large eggs, at room temperature
1 teaspoon vanilla extract
1 1/2 cups milk chocolate chips (1/2 cup or 1 cup is fine as well)
Sift together cocoa, flour, baking powder and salt in a medium bowl; set aside
Beat butter and sugar at medium speed with an electric mixer until light and fluffy. Add eggs, 1 at a time, beating until well blended after each addition. Stir in vanilla
Bake at 350° for 25 to 30 minutes or until a wooden pick inserted in center comes out clean. Cool in pan 5 minutes. Then transfer to a wire rack, and cool 30 minutes or until completely cool. Spread cupcakes evenly with White Frosting.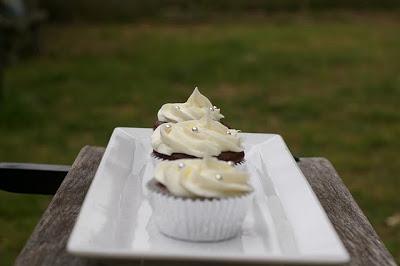 Beat butter with an electric mixer with a paddle attachment at medium-high speed until creamy. Gradually beat in sugar until smooth. Beat in vanilla and 2 Tbsp. milk, adding additional milk, if necessary, for desired consistency.