Weight loss might not seem it, but it's actually quite simple when you know what you need to do. Providing you're consistent when it comes to putting the effort in, there's no way you can't get to where you want to be! You just need to be patient. You can't expect to start looking like a fitness model you love after only 2 weeks of eating right and exercise. It takes much longer than that. Here's everything you need to know:
You Want to Lose Fat, Not Weight
Many people refer to it as weight loss, but it isn't weight you want to lose. It's fat. Fat and weight are two different things. Without getting too complicated, fat is that stuff that makes your body look out of shape. It's the stuff that can make you fall ill if you have too much of it. Weight can refer to not only fat, but water, muscle, and your organs. If you lose fat, you'll begin to shape up and 'tone' your body. If you lose weight, you could also be losing muscle. This could leave you looking smaller, but even more out of shape than before!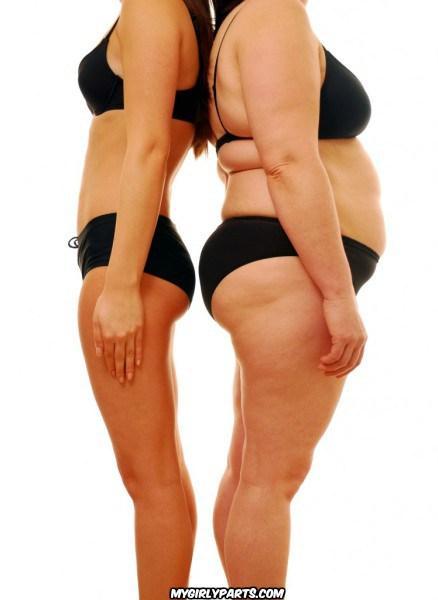 You Need to Measure With More Than the Scales
In order to make sure you're losing fat and not weight, you need to measure more than just with the scales. The scales do have their place, but you shouldn't stress out about fluctuations like most people do. People attend a slimming group, put on half a pound and cry salty tears into a bucket of ice cream later on. Your weight naturally fluctuates, and it can be down to lots of things. It is not linear. Make sure that you're using the scales sparingly, and instead using photos and measurements so you can see how far you've come. There are benefits to losing weight if you're quite overweight. But ultimately, it's fat that counts!
It Isn't Just About Cutting Calories
To lose fat, you do need to be in a calorie deficit. However, it isn't just about cutting calories. If it was, you could potentially eat 1400 calories of chocolate a day and get the results you're after. You should aim to fill your calories with healthy foods to make sure you're getting all of your vitamins and minerals in. You could even go as far as to start tracking your protein, carbs, and fat intake to make sure you're getting a good ratio of each. For this, you can use an app and macro calculator. It can take some getting used to, but you'll definitely see results.
Diet is More Important Than Exercise
If you think you can run for hours on the treadmill and make up for your awful diet, you're wrong. Diet is far more important than exercise. If you want to get one spot on first, make it your diet. Then start incorporating exercise.
The More Time You Take, The Better
Don't rush. This shouldn't be a race or a quick fix. If you're in this for the long haul, you should be coming up with methods you're happy to stick to for life, rather than you want to stick to for a quick fix. Taking months to lose your fat will ensure you keep it off too, rather than pile it back on later on.
Be consistent and you'll get to where you want to be!
Over To You
Do you have problem weight? Have you tried losing by either exercising or portion control? If you're thinking about getting into a program, you need to get your MIND straight first. Think about Wellness Coaching with my friend, Dana. She's been there. She knows how to help you. Contact her today for a complimentary 30-minute consultation.
5 Things You Should Know About Weight Loss #health #fitness #mind
Click To Tweet
*This post may contain Affiliate links.
Did you like this post? If so, look below to find more like it! Better yet, Subscribe to our Newsletter and Never Miss a Thing!
Email *

Brenda
I have over 28 years as an Administrative Assistant, including at the Executive Level. I also have over 5 years experience as a Blogger,Web Manager, Web Designer, and Social Media. If you're in need of assistance, please
Send me an email
and let me know how I can help.

Latest posts by Brenda
(see all)
Everything You Need to Know About Weight Loss

- April 1, 2016

A Quick Guide to Using Social Media

- March 31, 2016

Creating The Perfect Home Office

- March 30, 2016
Related
Tweet
1
Share
4
+1
1
Pin
1
Share
2
Stumble
Total Shares

9