Parents took us all out for dinner to celebrate their anniversary. Awesome! We were late since I had to come from the office and I wasn't early. It was cool that the place we decided to eat closes really late. Sieg's has always been an eye-catcher for me when passing through Bicutan, but after 12 years of living nearby, this will be my first time! Everything Goes at Sieg's, hmm?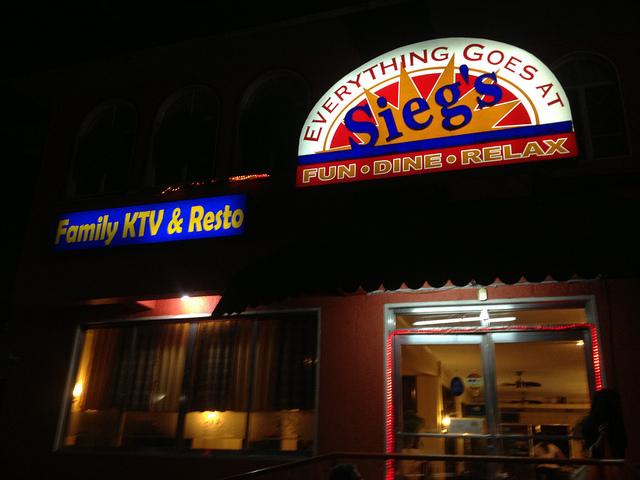 Everything?
It was pretty empty when we got there. There were only two other tables with customers. Nice, quiet, and cozy, I guess? A few others came in after us so it seems having dinner here at ten isn't out of the ordinary.
As late as it already was, we had a hard time choosing from a wide selection that included Tempura, Fish and Chips, crab, Gambas, Pizza,
Tapang Usa
, Callos, pasta, burgers and steak.
Everything Goes
 indeed! I happily ordered the Indonesian noodle dish I love called
Char Kway Teow
, which turned out to be out of stock. So were our next three choices.
Is everything gone at Sieg's?
 Luckily, we were able to settle on second choices from their vast menu.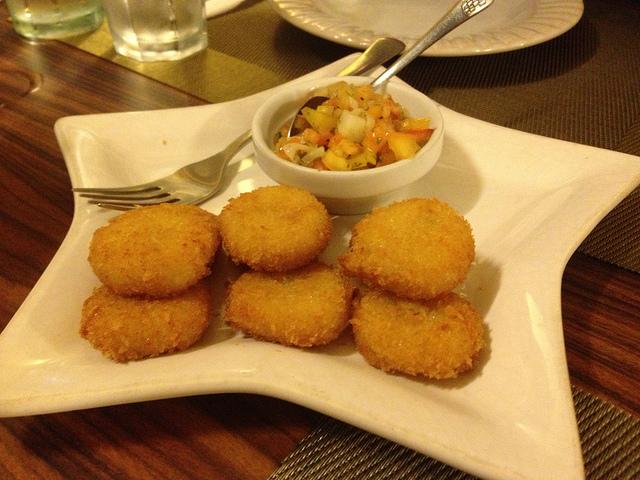 Fried Cheese, P130.00
four cheese, blended with cream and egg yolks breaded and fried with fresh tomato sauce. 
This intricately named appetizer was an easy choice, having the words "fried" and "cheese" both. My tongue doesn't have enough attention to detail to verify or classify the four cheeses, but it was good. The fresh tomato sauce wasn't that special but it accompanied the cheese well.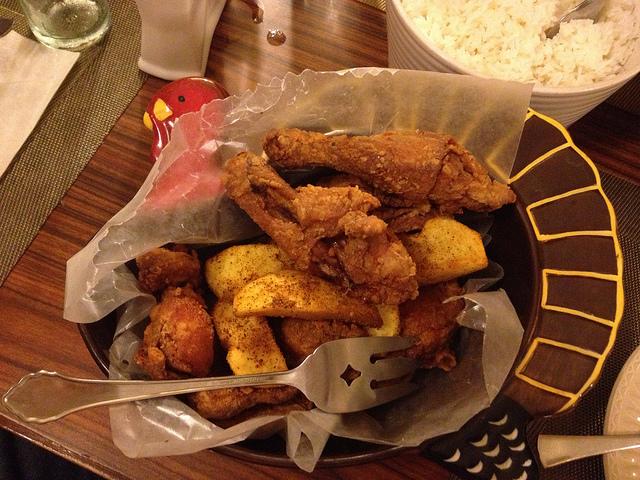 A Basket of Chicken, P440.00
deep fried whole chicken chopped and served with potato wedges and our gravy.
Now, I get it! A "chicken" basket! 
Another creatively named dish, this basket of chicken gets points for presentation but not flavor. This almost exactly tastes like your regular fried chicken at home. That isn't worth  the price tag for me, but it might be appreciated if you're particularly homesick. The best thing about this dish isn't the basket though, it's the amazing potato wedges that come in it. Rafa said it was great and I didn't pay much mind until I tasted it. Wow! I wish it was just
A Chicken Basket of Potato Wedges
instead. Pity there were only four wedges in the basket. I don't really recall the gravy so I might not have used any.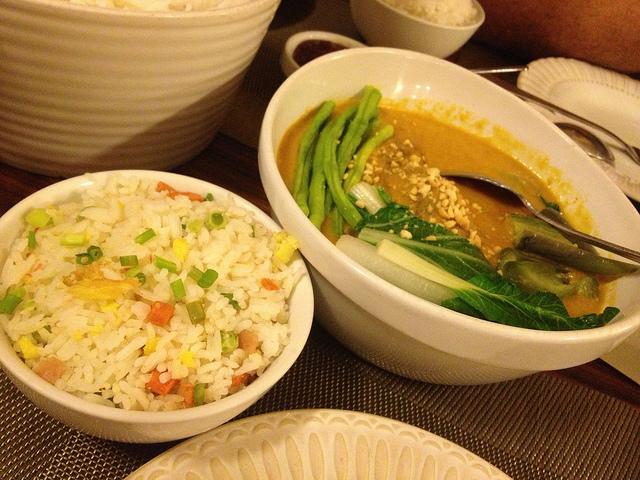 Yang Chow, P40.00 and Kare-Kare, P290.00
I got a cup of Yang Chow because I wanted something much more tasty than plain rice. I was barking up the wrong tree. This was quite bland, but at least it wasn't expensive. I have only recently become a fan of Chinese fried rice, so I had high hopes for this.
Made from ox-tripe, beef brisket and pork leg served with fresh peanut sauce and steamed rice.
The Kare-Kare was alright. It was good because I really like the dish but this wasn't that great. I can easily say Gerry's Grill (my usual point of comparison for this dish) has a much better version.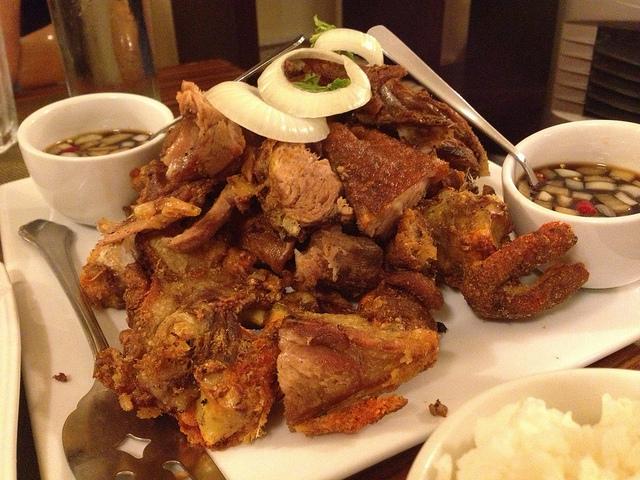 Crispy Pata, P495.00
the famous fried tender pata.
It looked great and there was a lot of it, but we found this to be quite dry. I discovered that dryness takes all the fun out of eating Crispy Pata. This was okay pork, but was far from the usual delicious Crispy Pata.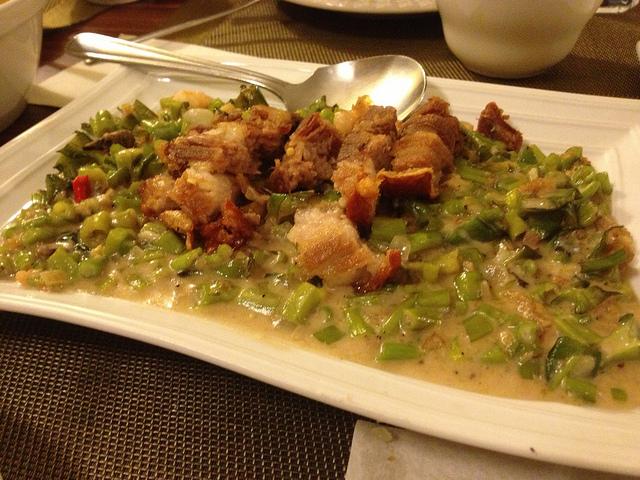 Sieg's Bicol Express, P220.00
sigarilyas, string beans, chillies, coco milk, and fried liempo.
I was wondering why this was in the
Vegetable
part of the menu. Majority wins, I suppose. :) This was our favorite of the night. Never would I have imagined that vegetables would be wiped out immediately and way before Crispy Pata and Kare-Kare, but it did happen. This isn't the usual kind of Bicol Express, but it was flavorful, spicy, and addictive.
Verdict:
Fried Cheese: Good
A Basket of Chicken: Good only because of the potatoes
Yang Chow: Bad
Kare-Kare: Okay
Crispy Pata: Okay
Sieg's Bicol Express: Great
Maybe next time, we should only order the dishes with Sieg's in the name. Haha. I did not see the Karaoke, but this looks like a fun place to enjoy that. The fun dinner was a bit of a hit-and-miss in the food department, but we were really happy with the Bicol Express. We barely scratched the surface of the huge menu, so I still look forward to trying more from Sieg's! (though I now know what I won't be ordering again :P)
Love Sieg's? Hate it? Let me know by commenting below, or just
tweet
me!

SIEG'S DINER
Doña Soledad Ave.,
Better Living, Parañaque City
(02) 821-4154
View Larger Map