I've been meaning to do a post like this for a very long time. I've got a horrific sore throat so a video was out of the question but I personally love reading posts like this so thought "why not!"..
My everyday make up changes very often but for a while, I've been finding myself using certain products over and over again and have finally created my basic Make Up look. "Basic?" I hear you say.. Well, for me this is quite basic..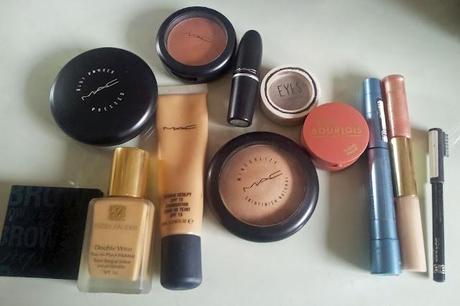 Skin
Estee Lauder Double Wear Foundation in Ivory Beige
I use this as my every day foundation all year round... Sometimes during the winter, my skin can sometimes be a little paler than the colour, but I just don't add as much bronzer. This foundation, I'd say, is Medium to Heavy coverage without being too cakey. It doesn't break me out and can help me look flawless all day if I blend with a stippling brush when needed.
MAC Studio Sculpt in NC40
I bought this last year before my holiday to Mexico, so that I could adjust the color of my foundation depending on how brown I was.. I use this now to give a more 3D look to my face so that it's not all one color.. It compliments Estee Lauder Double Wear so well and isn't too thick, although some people may disagree... I blot it on with a stippling brush to create a more natural and even finish.
Estee Lauder Concealer (and Lipgloss duo) in Light 02
I honestly really love this concealer. I've used Collection 2000 and Bobbi Brown Creamy Concealer but this really doesn't compare. It doesn't rub off after wearing it for long periods of time and it blends so well without becoming patchy - unlike the others. I don't use the Lipgloss because I'm unfortunately allergic to it and last time I used it, I lost all my senses in my tongue so I don't want it to happen again.
Powders
MAC Blot Powder Pressed in Medium
I literally LIVE by this product! It's by far the best powder I've ever used.. I use it on my T-Zone mostly and if I want my make up to stay in place all day, I just pop it all over. It doesn't have a color to it, and really works on my greasy areas.
MAC Mineralize Skin Finish Natural in Medium Plus
I definitely prefer Blot Powder Pressed as a powder but this powder I use to create a bit more definition in my face and to add a bit of colour, if needed. I brush this on the sides of my forehead, on my cheekbone and pretty much around the side of my face. It keeps my make up in place well but needs to be reapplied for an even finish all day.

Blushers
MAC Blusher (used as contour colour) in Gingerly
As stated, I use this blush as a contour color. It's quite a red-toned blush and I'd say it doesn't really match up too well but it'll do until I run out (which could be a while).. It's very pigmented and a little bit on the brush goes a long way. This color is also good for blush when I've got a tan, but as some of you know, I went on holiday a few weeks back but didn't return that tanned.
Bourjois Blush in 74 Rose AmbreThis blush is definitely my favorite at the moment! It's quite peachy, pink and is really easy to control how much you put on your face. It also compliments my contour color too. This blush color is perfect to make yourself look a little rosey and tanned.
Eyebrows
Benefit Browzings in Medium
I love this little kit! It's great for traveling and the colours are just really useable. I mostly use the powder after I've applied Eyebrow Pencil to fill in the gaps and I have so many compliments on my eyebrows and I just have this baby to thank for.
Rimmel London Eyebrow Pencil in 004 Black Brown
I use this pencil to shape my eyebrows underneath and at the end points. It can often look a bit too hard without the powder after but I use this very lightly to just get a rough shape. The color can often be too dark but I also use another colour, beige
Eyes
Loreal Telescopic Waterproof Mascara in Black
Ever since Anna from ViviannaDoesMakeup noted everyone about the mascara she uses, I had to go and get one.. And I haven't looked back. This must be my 5th or 6th repurchase of the product. It's insane what it does and I don't think I'll ever want to splash out on another mascara. This is my secret weapon for lengthy eyelashes for a night out. It's also incredibly waterproof.. I used it a lot by the pool on holiday.
Topshop EYES Eye-shadow in Silver Sand
This may look a bit of a dull color but it's an amazing highlighter for every day because the shimmer in it bounces the sunlight off, creating a really open-eyed look. I use this all over my lid and often accompany it with a dark color for the evening.
Lips
MAC Shy Girl, Freckle-Tone or Jubilee
I normally wear MAC most days and have roughly 3 that I change between.. They're all very natural colours but all very different. Shy Girl is a pink-toned nude which I feel is very overrated for what it is. I enjoy using Freckle-Tone as it's very much like Shy Girl but a bit more yellowy and peachy.. My ultimate favorite is Jubilee.. It's a darker nude, more on the red side than the yellow side but it's just incredibly flattering day-to-day and I can wear it with anything to make a more polished look.