Finally I got my race kit  this afternoon and I must say I'm already all set for the Sunday morning run.   The shirt seems a bit larger in size compare to the last years singlet and just glad it fits right when I got home.  It's almost over a year (McDonald's fun run) since I last joined a running event.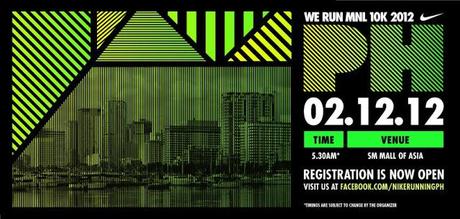 Not to sound bragging but even without practice or training I was able to finished all the race that I joined last year. As long as there's music to pump me up or motivate me I think I can still get on my running gear.  Here's an eclectic mix of different genre that  pumps me up  when the  going gets tough.
The Warm Up
Lose Yourself – Eminem
Calm Like a Bomb – Rage Against the Machine
Beast Mode – B.O.B.
Mr Brightside the Killers
Firestarter – Prodigy
Sleepyhead – Passion Pit
The Stride
Express Yourself – Labrinth
Gozando en Miami - Charanga Habanera
Run Run Run – Dragonette
My Favorite game - The Cardigans
Sex on Fire
(

R

ichard

S

harkey &

P

eter

S

ar remix) – Kings Of Leon
Clique – Kanye Big Sean
Where is my mind – pixies
O.P.P. -  Naughty by Nature
Alright (Ratatat Remixes) – Memphis Bleek
Uprising by Muse 5
Run – Matt Nathanson
Up All Night – Drake
Where The Streets Have No Name – U2
The Going Gets Tough
Seven Nation Army  (

D

ubstep remix)- The White Stripes
Move Along – All American Rejects
Katawan –  Hagibis
Young Blood – The Naked & Famous
Run –

C

ollective soul
The Fighter – Gym Class Heroes
Time is Running Out – Muse
Try – Macy Gray
Don't Stop Till You Get Enough – Michael Jackson
Run –

S

now

P

atrol
Running–

N

o

D

oubt
Harder to Breathe – Maroon 5
Carry On – fun
The Finish Line
Missy Elliott: Work It  
Float On – Modest Mouse
Praise You – Fatboy Slim
Walk This Way – Run DMC
Viva La Vida - Coldplay