Sacramento Events for the Week of March 21st:
Tuesday: Slow Food Sacramento Mixer - The Grange Restaurant, 6-8 p.m.
"Join Slow Food Sacramento and Executive Chef de Cuisine Brad Cecchi of Grange restaurant for Meat & Greet in the Scandal Bar in the mezzanine level of the Citizen Hotel. Enjoy a variety of appetizers, including cured wild salmon on house made rye bread, Riverdog Farm pork shoulder sliders, and spicy meatballs. $25 per person. RSVP and payment in advance only to Grange at 916-492-4450. No cancellations/refunds." - More Info.



Thursday: Blogging for Business - Drexel University, 6-8 p.m.
"If you're a business still struggling to make sense of blogging, don't miss Social Media Club Sacramento's next workshop: Blogging for Business. This hands-on session will be offered by local expert, Jennifer Bourn." - $10 suggested donation, complimentary refreshments provided by Paesanos and The Sacramento Press. This event is technically "sold out" but there is a waiting list. - More Info.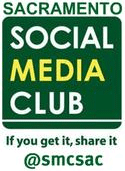 All week: Thrift Town Contests - online
Check out thrift Towns ongoing recycled prom, outfit and frame contests. Show off your Thrift Scores and win some TT dough. - More Info
On a cycling note, remember when I launched my idea for a fear campaign against cars? It's like this guy borrowed my mind! Here's a video of Mikael-Colville Andersen, founder of Copenhagen Cycle Chic, sharing his views on our fear-culture and our schizophrenic attitude towards death-machines (aka cars).