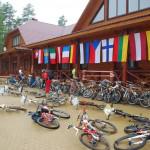 Around 3am on the morning of the Middle Distance European Championships I awoke briefly to the sound of torrential rain pounding on the roof above my head. It was forecast but none of us expected the complete hosing we got on the way to the start. The roads were running like rivers, the sandy tracks a quagmire. We were worried, the organisers had confirmed the night before that the maps were not waterproof and no plastic bags would be provided. We had even tried running a spare under the tap to see its effect. Suffice to say those with non wrap around foil map boards went hunting for plastic bags…..
The Orfix I was using wrapped right around so was fairly confident it would stay dry and didn't take a bag with my crossed my fingers.
I started strongly riding well, the bike squirming on the slippery terrain but I was also nailing the controls. The rain continued to pour until we entered an urban gridded section. Looking at the splits I seemed to have lost time here to route choice, it will be interesting to see the winners routes when they come out.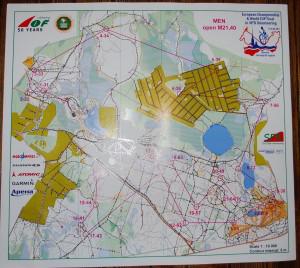 I continued to make no mistakes having a great ride seeing no other male riders until a major wobble after the spectator control when I pulled up short on a track thinking I had gone too far. I doubled back and committed to a decent but soon realised what I had done. I relocated quickly but lost 2 mins getting back on track. After that I went clean again and finally got a tow through the last few controls some faster riders coming through in a pack. I was 47th overall, not too bad but nearly 13 mins down on the winner Eric.
Chatting tonight looking at our maps we are wondering why we make mistakes. The answer is, try map reading whilst shaking the map up and down and ask someone to throw a glass of water in your face at the same time !
The Orfix mapboard performed brilliantly and the map came out in one piece at the finish just a little damp in the corners – result.
More photos in the Gallery