This marks the first of a series of (delayed... I know..) posts about my adventures in Europe.  I thought it would also be fitting that in just a few weeks, it would have been a year since I got back home.... :)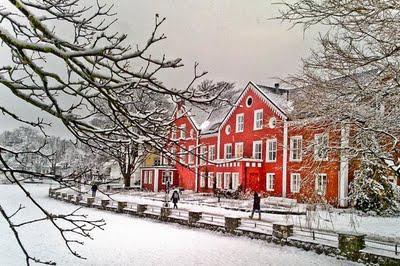 this red house by Breiavatnet is one of the first things you'd see when you arrive in the sentrum.
Stavanger Stavanger Stavanger
... 
*sigh*
 I'm afraid that I won't be able to do any justice to this beautiful city which has become my second home.
To start off,
Stavanger
is the administrative center of Rogaland county and is one of the biggest cities in Norway.  It is also considered to be the Oil Capital of Norway as it houses headquarters of majority of oil companies with operations in the North Sea.   Stavanger has consistently been on the list of the most expensive cities to live in , currently standing at number 4 this year.  Though expensive, as long as you can cook, know how to budget properly, and don't mind taking public transportation or walking, you'd be fine.  It's a very beautiful town, not as crazy busy as Manila but definitely charming.  The fact that it's surrounded by nature -- the beach is just a few steps away and mountains aren't that far off either (it's even one of the best jump off points to the fjords!) made me fall in love with the place instantly.
So how does one get to Stavanger?
1. 
by Bus
 - this is probably the cheapest way to travel in Norway but trips are infrequent. The cheapest one I know of is 
Lavprissekspressen
 where you can get tickets from Oslo for as low as 49- Kr  (USD 9-) I've also taken 
Kystbussen
 to and from Bergen and got my return tickets for 750- Kr (USD 138-) back in September 2009.
2. 
by Train
- this the my favorite means of transportation when I went around Norway and Europe.  the train station is located right smack in the city center so it's not too difficult to move around.  Also, 
NSB
 - Norway's train company sell 
minipris 
or discounted tickets which would let you travel from say, Gothenburg, Sweden, for as low as 199- Kr (around USD 37- at the time of writing)!  It's one of the cheapest means to go around Norway (and Europe in general) though one of the longest but what the heck! It gives you the chance to see more! :)
3. 
by Plane
 - Sola airport is the nearest airport to Stavanger, which is just roughly 30mins away from the town center by car.  There are a number of airlines that fly in and out of Stavanger but major players are SAS, 
Norwegian
, Lufthansa and KLM.  From the airport, you may take the airport shuttle bus which runs every 30 mins from 5 or 6am til midnight.  The return ticket costs 150- Kr (USD 28-). 
Kolumbus
 also serves the airport-Stavanger center route but are less frequent and less reliable. Ticket costs 29- Kr (USD 5-).   A popular entry point of budget travelers who don't mind taking 
Ryanair
 flights to Norway, is Haugesund Airport in Karmøy which is roughly 2 to 3 hours away from Stavanger.  From Haugesund bus terminal, one can take a bus to Stavanger center for 220-  Kr (USD 40).
4. 
by Boat
 - 
Tide
 has ferries running from Stavanger to Bergen and back and is a very popular option especially during the summer months. 
5. 
Others 
- By car via highway E39 (a lot of people don't know that Norway is broken into islands and I honestly find it amazing how roll-on and off boats manage to make things transportation more efficient around here!) or in the summer, by bike passing through the beautiful landscapes and the 
North Sea bike route
. 
Where to stay?
I'd say, 
couchsurf
!  But if that is not your thing and budget is not an issue, you may want to stay at the hotels (
Radisson
, Thon, etc.) scattered around Breivatnet.  For a cheaper alternative, there are camping sites for hikers and budget travelers dotted around Norway. The nearest one to Stavanger is located near Mosvannet (will write about Mosvannet soon) which is just roughly 2km away from the city center.   
So on with the sights!

There are quite a number of interesting places around Stavanger so I decided to focus on Stavanger sentrum (the city center) for this post.  Everything I'd be writing about are just a couple of steps away from each other.  It was also the main spots I went to the first chance I got to go around town.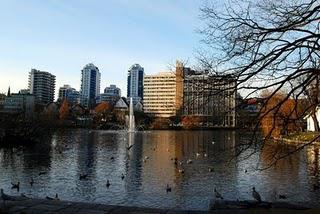 Breiavatnet, Stavanger City Center
One of my favorite places in the city is the small lake in the middle of the city called Breiavatnet where I've found myself running/jogging a couple of times amidst the cold weather and light drizzle.  I've spent a couple of summer days feeding pigeons here too, a hobby that a number of locals, kids mostly, love to do.  The small patches of grass surrounding the lake is also a good place to just chill with a good book.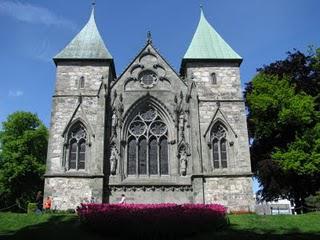 Stavanger domkirke
Beside the lake is the Stavanger 
domkirke
which I think is also Norway's oldest cathedral and is one of the simplest yet beautiful churches I've been.  I initially thought that this was a Catholic church until I found myself attendng service being led by a female minister.  Not a lot of people attend service here anymore though the
kirke
 is packed to the brim during the 17th of May.  
Domkirke
is also a favorite wedding venue of couples.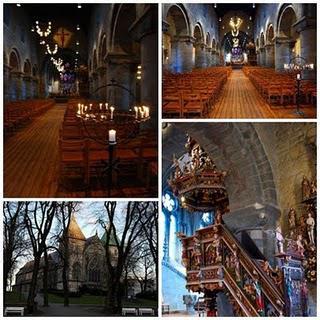 inside and outside Stavanger cathedral
Right by the church steps is the town square which is filled with vendors selling their fresh produce on summer Sunday mornings.  I have bought a couple of fruits from the stalls out there but my ultimate favorite are those gigantic yet sweet strawberries on offer every summer! Yum!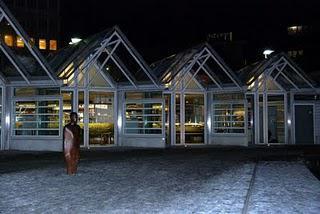 Stavanger fisketorget at night
A few steps down the stairs would lead you to the fish market
(fisketorget)
by the harbor.  I had long admired how cute these glass houses were when I first arrived.  I even initially thought that these were one of those fancy restaurants the town has!  haha  I've bought some fresh fish (I forgot which kind it was though) and some
blåskjell
(mussels) here which I turned into some Chinese style steamed fish for lunch which turned out really good.  I also tried 
fiskekaker
(fish cakes)  from the market (10- Kr each if I remember it correctly) as recommended by friends and they were pretty good as well.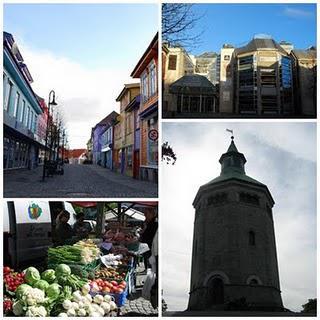 from bottom left: fresh produce at the square, Ovre Holmegata, Kulturhuset, Valberg Tower
Going through the tangle of narrow streets lined with shops and cafes nearby would probably lead you to the 
Valbergtårnet,
the Valberg Tower, which used to be the highest point in town,
Kulturhuset
which houses the
kino
(cinema/movie theaters) and my favorite place of them all, the city library!  This is one of the places that I miss the most right now since there isn't any decent public library in Metro Manila where I can freely borrow books.  A little bit further on is the VERY popular 
Ovre Holmegate
street - - the most colorful of them all in town!
This post is getting longer by the minute so I think I'll save the other sights and sites for other posts.
COPYRIGHT © 2011 JuanaTravels.