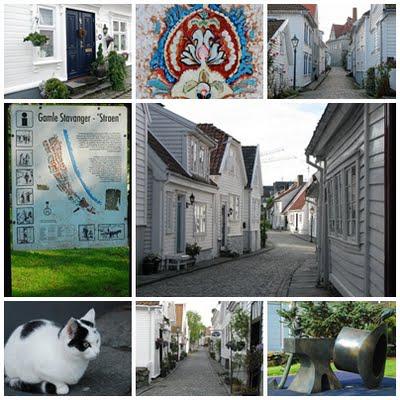 Gamle
Stavanger
or Old Stavanger is that part of town right across the harbor from where the city square and Valberg towers are at.  I've been told that the area has one of the biggest collection of old wooden houses in all of Northern Europe.  The area is very distinct since majority of the houses here are white.  What I find more amazing than having the whole area beautifully preserved is the fact that people actually live in these houses! How cool is that?!  Every Constitution day (17th of May) you'd see folks -- both young and old, in
Bunad
(traditional costumes) and the Norwegian flag flying everywhere making the area look more appealing.
Another point of interest in the area is the Canning Museum which can be found right in the middle of
Gamle Stavanger
.  I had been told that Stavanger used to be a fishing village before (I think that the fishing industry in the area hasn't completely died as well since there are times when the smell of fish lingers all over town which happens most afternoons especially during windy spring days) and the canning museum used to be part of a canning factory where fishes are processed.  I never had a chance to catch the museum open but based on the website, there are still days when visitors can try the machinery themselves and taste fish inside the museum.  Pretty neat!
I loved walking around this area especially in the summer when flowers are in full bloom making the whole area look so pretty and smell so sweet! I remember taking my cousin here as well, and we had a grand time taking photos with the ginormous hat and monkey at the nearby park. :)
COPYRIGHT © 2011 JuanaTravels.